The weekend of July 9-11, 2021 was a life changing event for the nearly 400 high school age youth who attended the Ave Maria University FEARLESS Youth Conference.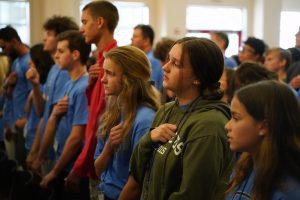 Traveling from all over the state of Florida, and several representing the state of Texas, the youth were led by EPIC Music Ministry who attended the Conference with their own youth group 11 years ago but have now gone on to minister to youth in the thousands both nationally and internationally.
The Conference included daily Mass, group Eucharistic Adoration, music, presentations, talks, fun and fellowship. There was also the opportunity for the Sacrament of Reconciliation.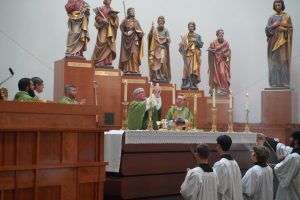 Conference speakers included Father Rick Martignetti, Ave Maria University Director of Campus Ministry, Father Rich Pagano, Pastor of St.  John Paul II Parish in Ponte Vedra, Florida, who is an alumni of Ave Maria, and nationally known conference speaker Mari Pablo.
The closing Mass was celebrated by Bishop Frank J. Dewane on July 11 in the Ave Maria Parish church. The Mass, which served as a fitting conclusion to the Conference, was filled to capacity and included a number of seminarians from the Arch/dioceses of Venice, Orlando, Miami and Palm Beach. Bishop Dewane built upon the theme of the Conference "FEARLESS," reminding the young men and women how they should not be afraid to open their mind and heart to the call of the Lord. He added that they are chosen by the Lord and called to become men and women of God.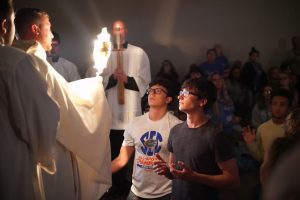 Dates have already been chosen for next year's youth conference "RENEWED" which will take place on July 8-10, 2022. More information will be posted on the conference website www.aveconferences.com