With hundreds looking on and cheering their support, ground was broken on Nov. 4, 2023, for the new Our Lady of the Angels Parish Activity Center and rectory in Lakewood Ranch.
Bishop Frank J. Dewane led a brief prayer service and blessing before picking up a shovel to take part in the ceremonial groundbreaking.
"This Parish Activity Center is something that could not have been imagined just a few years ago, and now it is something that is needed for your growing, faith-filled Parish," Bishop Dewane said.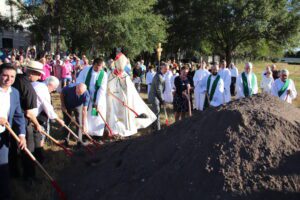 Father Sebastian Szczawínski, S.A.C., Pastor of Our Lady of the Angels, remarked that he was very grateful for the support and prayers for the campaign which made the groundbreaking possible.
"This is for children and adults who are going to learn about Jesus – how to live a good life, how to live a proper life, connected to Christ," Father Szczawínski said.
The new 12,580-foot Parish Activity Center will be located on the west side of the Parish property. In addition, there will be a duplex rectory constructed for the Pastor and Parochial Vicar in the northwest corner of the property. The project is expected to take 12-16 months to complete.

Under the guidance of Bishop Dewane and Father Szczawínski, the Parish ran a "Building Our Future" capital campaign during the past two years to help make the Parish Activity Center and rectory a reality.
The new activity center will more than double the existing facilities and will service the needs of an ever-growing community. The activity center will be a one-story building and will house 10 rooms of various sizes for use in ministries and programs. The new structure will serve the needs of the nearly 500 1st – 12th grade Faith Formation students and support the more than 40 outreach ministries and groups of the Parish. The current Parish Hall, which was recently renovated, will remain, and be used for meetings and events as needed.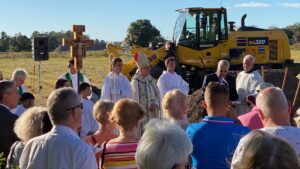 The construction of a rectory will bring the clergy from off-campus living arrangements to be on-campus and within walking distance of Our Lady of Angels. The new duplex will be a two-bedroom, two-bathroom structure.
The architect for the project is PRA Plunkett Raysich Architects, LLP – John Holtz, partner, and the general contractor is ME&S general Contractors, Inc.
Joining Bishop Dewane and Father Szczawínski in the groundbreaking were priests and Deacons who serve the Parish. Members of the Parish Finance Council also turned dirt, as well as many others who were pivotal in making the project a reality.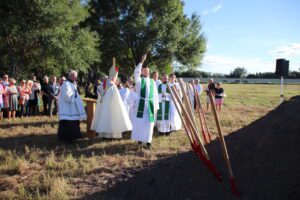 Our Lady of the Angels serves 3,138 registered families in the growing Lakewood Ranch community with up to seven weekend Masses offered during the peak season.
For more information about Our Lady of the Angels, visit olangelscc.org.