The Ave Maria University 2021-2022 Academic Year opened with a Mass celebrated by Bishop Frank J. Dewane on Aug. 23, 2021.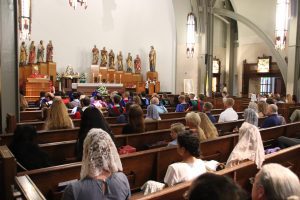 The Mass included faculty, who processed in before the opening hymn dressed in their doctoral robes and seated up front while the students sat behind. Concelebrating were a number of priests who serve the spiritual needs of the students on campus.
Bishop Dewane welcomed new and returning students for the start of new Academic Year and noted that they have each been provided with a great opportunity to be at Ave Maria University and said he was praying that they find success in their studies. The Bishop encouraged them to take advantage of their time at the school to grow closer to the Lord and reminded them that they can do this by having a strong underlying presence of Christ is all that they do in their life.
"Jesus is not an optional course at Ave Maria University," the Bishop said. "Find time for Christ in your daily life. If you allow yourself the opportunity to receive the Body and Blood of Christ, let the Real Presence permeate you and truly become a part of who you are. This is not just an abstract thought. It is what makes us unique as Catholics and differentiates us from our Protestant brothers and sisters. The Real Presence of Christ must be your focus. Make Christ the source of what allows you more the man or woman of God you are called to be."
It is through the Lord that each of the students will become more than they thought possible in life, Bishop Dewane continued. "Know Christ is not bound by the limitations we have. Let this be for you a time of growth as Christ accompanies you on your journey."
Following closing prayer, the Bishop presided over a commissioning ceremony for three new theology professors, during which each took a Profession of Faith and Oath of Fidelity, vowing to remain faithful to the Teachings of the Church before Bishop Dewane and the entire school community.
After the Mass the Bishop greeted the students who thanked him for his presence and inspiring homily.