Bishop blesses Maria Vision offices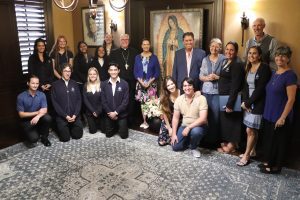 Bishop Frank J. Dewane blessed the offices of Maria Vision USA in Ave Maria on Aug. 23, 2021. Maria Vision offers a variety of faith-based programming with a mission to bring the light of the Gospel to the entire world with the vision of Mary Most Holy.
The programming includes the Holy Hour, daily Mass, weekly rosary, guest speakers and presentations. Maria Vision can be viewed in 12 million households in the United States on Direct TV channels 262 and 89 and through its website https://www.mariavision.us/.
Safety Patrol keeps little ones safe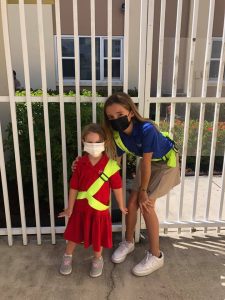 Student Safely Patrols at St. Francis Xavier Catholic School in Fort Myers put their leadership skills to the test on Aug. 20, 2021. They greet (often by name) the Pre-Kindergarten-3, PreK-4, and Kindergarten students during morning drop-off. Separating from the ones they love the most can be tough for the youngest Falcons. Patrols assist students to class and ensure they are in the learning mindset when they arrive. For example, one of the Pre-K students didn't want a walker and instead wanted to be a walker, so Safety Patrol members strapped on a bright yellow safety belt on the young lady, and she walked the Patrol to class. Whatever works, the team often says that welcoming all the smiling faces and exchanging greetings with the students during morning drop-off is the best part of our day. Well done!
Young scientists get hands-on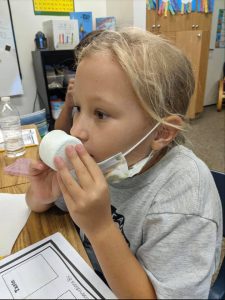 Scientists at St. Mary Academy in Sarasota participated in a hands-on experiment Aug. 20, 2021, where they used their senses as they smelled, touched and tasted marshmallows. Then the scientists asked questions, wanting to know what would happen if you put a marshmallow in the microwave for 30 seconds. They then recorded their results. The next day they had more questions and asked what would happen if we they marshmallows in different liquids like vinegar, water, soda, and cranberry juice. Students love hands-on experiments.
R.C.I.A. Workshop with R.C.I.A. teams
The Diocese of Venice Office of Religious Education is holding a Rite of Christian Initiation for Adults (RCIA) Workshop led by Dr. Bill Keimig from Franciscan University at St. Leo the Great Parish, 28290 Beaumont Road, Bonita Springs, from 9 am.m to 3 p.m. on Sept. 23, 2021. The workshop will include the following: a walk through the four periods of the RCIA process – pre catchumenate, catchumenate, purification and enlightenment and mystagogy & the neophyte year; a walk through the three aspects of the catechumenal model – liturgical, catechetical, pastoral – with a fixed time in the event on each; plus opportunities for questions and answers. Lunch will be provided at no cost to participants.  Contact Anne Chrzan, Diocesan Director of Religious Education for registration information at chrzan@dioceseofvenice.org.
VDCCW Priest's Appreciation Dinner
The Venice Diocesan Council of Catholic Women Priest's Appreciation Dinner is 6:00 p.m., Friday, September 17 at the Venetian River Club, 502 Veneto Blvd., Venice. The cost is $40. RSVP with a check by Wednesday, September 1 to: Ellen Bachman, 52414 Lansdowne Way, Palmetto, FL 34221. For more information, please contact Ellen Bachman at 941-721-7393 or pennyln99@aol.com.