Bishop Frank J. Dewane continues to lead the Diocese of Venice response to the devastating impacts of Hurricane Ian as he visits impacted Parishes and communities while also seeing first-hand what is being done to help people in need.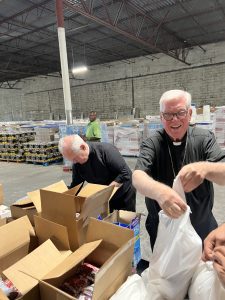 Bishop Dewane celebrated Mass on Oct. 8, 2022, at St. Katharine Drexel Parish in Cape Coral, a region hard hit by Ian's harsh winds and storm surge. Many, 13 days after the storm, still had no power in their homes.
"It is an honor to be here to celebrate the Holy Sacrifice of the Mass in Cape Coral," Bishop Dewane said. "Many of you have suffered and are still suffering as you try to recover from Ian's wrath. We are gathered here to pray for the healing of those in need and give thanks for what you still have."
The damage to homes in the area was so extensive that St. Katharine Drexel is the home of one of 10 Catholic Charities, Diocese of Venice, Inc., disaster distribution sites set up to help the community with basic needs of food, water and other supplies necessary for recovery after the storm.
The Gospel reading (Luke 17:11-19) tells of the 10 lepers who were healed by Jesus, but only one returned to thank the Lord.
"Be the one," Bishop Dewane said. "The one who gives thanks to the Lord for the graces and gifts that are bestowed upon you each day. Now is the time to give your thanks. We are each grateful to be here as we move forward to recover from this hurricane and live our lives… It is going to take time to make repairs to the roof, but we need to give ourselves to the Lord, blessed and thankful for all we have."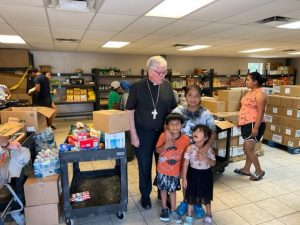 Immediately following the passage of Ian, Bishop Dewane began to visit the sites of destruction caused by the hurricane. It was on Oct. 6, 2022, when he was able to visit the hard-hit communities in Desoto and Hardee counties. Access to these areas was extremely limited by river flooding and the areas were under ongoing states of emergency.
Both the Myakka and Peace rivers had record crests, pouring water into the low-lying communities of Arcadia, Zolfo Springs, Wauchula, Bowling Green, as well as in Venice, Sarasota and North Port which the Bishop visited previously.
During the Oct. 6 visit, Bishop Dewane saw the devastation first-hand, noting the destroyed homes, many of which, stood up to the ferocious winds of the hurricane only to be washed away days later by flood waters. Many lost the entire contents of their homes and were left living in their vehicles unsure what to do.
While visiting St. Michael Parish in Wauchula, the Bishop learned firsthand about the devastating flooding to the community, as well as about a fire which destroyed 108 apartments, leaving many in desperate situations. He toured the Parish food pantry which was well-stocked from supplies provided by a regional food bank as well as from Catholic Charities.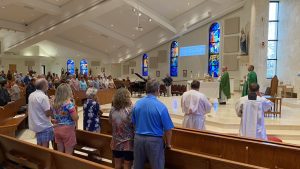 During his visit, Bishop Dewane spoke to families and offered several blessings for healing as they continued to suffer from the storm that had finally passed.
At St. Paul Parish in Arcadia, the Bishop met with Administrator Father Luis Pacheco. They inspected water leaks to the Parish church, as well as damage to the roofs of the old church and Parish Hall.
St. Paul is also one of the Catholic Charities disaster recovery distribution sites, which included food, water, blankets, tarps, cleaning supplies, sunscreen, batteries, diapers and more. The Bishop greeted and thanked the Catholic Charities staff and volunteers for their hard work.
Bishop Dewane returned to St. Paul on Oct. 10, when he met with 12 seminarians studying at St. Vincent de Paul Regional Seminary in Boynton Beach, who were doing a service trip to assist in the area on Columbus Day. Seminary Rector Msgr. Alfredo Hernandez and the seminarians were divided into three groups. The Bishop, Rector, and Father Pacheco helped create 550 bags of rice and beans after breaking open larger 50-pound bags. Another group helped clear debris from the property, while a third group went to a poor community to distribute food, water, clothes and toiletries.
"In spite of going in two loaded vans, they had to do four trips in total to cover the immediate need," Father Pacheco said. "Blessed be God!! I think it was a great exercise in ministry, compassion and reality to our seminarians, future priests of our Holy Catholic Church."