Susan Laielli – Special to the Florida Catholic
During the next edition of "Witnessing Faith with Bishop Dewane" airing at 8:30 a.m., May 28, 2021, Relevant Radio listeners will hear the sincere passion of Diocese of Venice Bishop Frank J. Dewane as he raises awareness for the importance of mental health across the Diocese of Venice.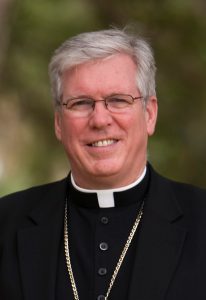 "What do we hear, one in five people suffer from a mental health challenge in some way," Bishop said during the show recorded at the Catholic Center in mid-May, which is also Mental Health Awareness Month.
Bishop Dewane welcomed Catholic Charities, Diocese of Venice, Inc., Family Counseling Center Program Director Geralyn Poletti, LCSW (Licensed Clinical Social Worker), since 1998, to highlight the importance of helping our sisters and brothers who may suffer from a mental illness or find themselves in crisis as the result of the impacts of Hurricane Irma followed by a global Pandemic.
"We were a little office in Collier County before Hurricane Irma, and the Pandemic," said Poletti, during the radio interview set to air on 1410 AM and 106.7 FM in Fort Myers and Naples.
Beginning with Hurricane Irma the American Red Cross provided a grant to Catholic Charities for free tele-mental health services for those who lived in Florida during the storm. According to Poletti, these services rolled right into the Pandemic making them busier than ever.
"We are now seeing the economic pitfalls between those who have financial security and those who do not," said Poletti, referring to the amount of people not able to use tele-mental services because of the lack of phones, or simply the lack of privacy in the home while trying to obtain the services."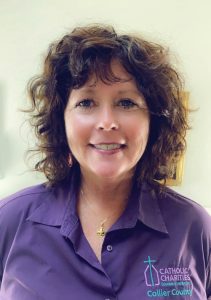 Poletti says they were inundated with referrals from pediatricians and schools following the return to in-person learning. The social worker teams serve families, students and individuals who may be struggling with isolation, depression, and anxiety due to the fallout from having to stay home, alone, or with someone who might be ill.
Bishop Dewane encourages parishioners to reach out to neighbors and friends who might be struggling with mental health due to the stigma still attached and show them you care or are simply willing to listen. He said there is a crossover to some degree between Faith and mental health.
In terms of making a difference, Poletti says she knows Catholic Charities tele-mental health services and their counselors in the schools are having an impact because the families and schools provide feedback, as well as the clinical treatment plans and customer surveys which are measured against the goals and objectives.  They also rely on an evidenced based online tool which provides an overall score for success.
Bishop Dewane also spoke about the initiative to have Mental Health First Aid training offered throughout the Diocese. Initial Youth Mental Health First Aid training sessions took place on April 29 and May 1, 2021. This training was offered through the Diocese Department of Religious Education for priests, deacons, principals, teachers and catechists. Additional training sessions will be offered in the fall.
If you know someone struggling with mental health issues who might benefit from free tele-mental health or in-person counseling services from Catholic Charities, Diocese of Venice, contact Geralyn Poletti, at 239-455-2655, ext. 3107, or by email at garalyn.poletti@catholiccharitiesdov.org.
Since the start of the COVID-19 Pandemic Catholic Charities, Diocese of Venice, Inc., mental health outreach has been supporting people with tele-mental health calls and video therapy, and recently resumed in-person therapy.
2,311 COVID-19 video therapy since March 2020
967 COVID-19 telephone therapy since March 2020
610 COVID-19 in-person therapy since February 2021