Staff Report
2/21/19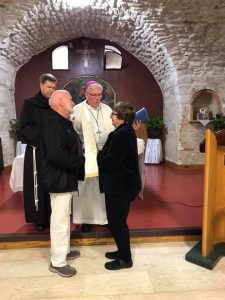 Bishop Frank J. Dewane was part of a recent pilgrimage to the Holy Land with a group of mostly faithful from the Diocese of Venice.
The pilgrimage was organized by John and Maureen Lengyel of the Equestrian Order of the Holy Sepulcher of Jerusalem and included visits to sites such as Cana, Nazareth, Capernaum, Jericho, Bethany, Jerusalem and Bethlehem, names that evoke vivid imagery from the New Testament and specifically the life and death of Jesus.
The spiritual leader for the pilgrimage was Father Peter Vasko, OFM, who is the President of the Franciscan Foundation for the Holy Land.
Bishop Dewane expressed how he was truly a blessed for opportunity to take part in the pilgrimage, noting that when one visits the sites of the life of Jesus, one cannot help but be changed by the experience.
While in Cana, the couples participating had the opportunity to renew their wedding vows. Other highlights included visiting the site where Jesus gave the Sermon on the Mount, the Sea of Galilee, Mount Carmel, the River Jordan, the Holy Grotto of the Nativity, the Mount of Olives, the Garden of Gethsemane and the Church of the Holy Sepulchre, and to walk along the Via Dolorosa, the same path Jesus took while carrying the cross to Calvary. There were just a few of the highlights of the pilgrimage.
During the journey, one pilgrim wrote on social media that she was overwhelmed to be at holy sites where Jesus walked and taught. She later added that the entire journey was a life-changing experience.