The Fort Myers Mighty Mussels may have found a new starting pitcher.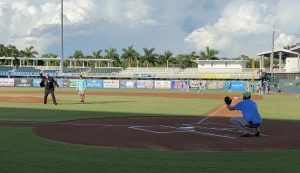 Team members of the Single-A Florida State League affiliate of the Minnesota Twins watched as Bishop Frank J. Dewane threw a perfect strike when he tossed out the first pitch before a July 23, 2021 game at Hammond Stadium at CenturyLink Sports Complex in Fort Myers.
The honor of throwing out the first pitch came about because it was Faith and Family Night at the ballpark with a portion of the proceeds benefitted Catholic Charities Diocese of Venice Inc. in Lee County. There was also a canned food drive which offered attendees a free ticket to a future game if they brought in four cans of food.
Bishop Dewane was greeted by Club President Chris Peters, who expressed his honor to have the Bishop present for the game. Bishop Dewane also thanked Peters and the Mighty Mussels organization for supporting Catholic Charities.
A few minutes before the start of the game, standing on the grass directly in front of the pitcher's mound, Bishop Dewane made a wind-up and hurled the ball towards Peters, who was waiting to catch the ball behind home plate. Everyone cheered when the hard-thrown ball sailed straight into the glove, right over home plate for a strike. With a big smile, the Bishop waved to the crowd, the Peters congratulated Bishop and presented him with several baseballs as souvenirs for the occasion. Bishop Dewane later presented these baseballs to children.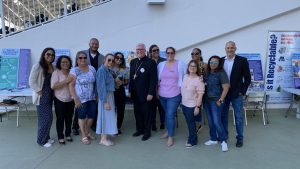 Alex Olivares, Regional Director of Catholic Charities in Lee, Hendry and Glades counties, who helped to organize the Catholic Charities participation in Faith and Family Night at the ballpark, said the Mighty Mussels organization wanted to celebrate Catholic Charities and the work done by the food pantries in Fort Myers and Bonita Springs which continue to respond to the impacts of the global Pandemic. In all, four large containers of food were collected for the Catholic Charities food Pantries.
In addition, prior to the game, Catholic Charities had displays set up in the main concourse to inform baseball fans of the various programs and services offered by Catholic Charities. The tables were operated by Catholic Charities staff who were happy to share with people what they do for the less fortunate in the community.
Before throwing out the first pitch, Bishop Dewane stopped and personally greeted each of the Catholic Charities staff, thanking them for their hard work and dedication. Later, during the game, the Bishop sat in the same section as the staff and met many of the family members.
As the game progressed, faithful from across the area stopped by to greet Bishop Dewane. Jeremy Ramey, Sales Manager for the Mighty Mussels also came down to the stands to say hello to the Bishop during the game.
The Mighty Mussels held their own but fell to the Daytona Tortugas 7-5 in 11 innings.