When most people retire in Florida, they might envision golfing, fishing or lounging on the beach, but that's not what Catholic Charities, Diocese of Venice, Inc. volunteer Tim Gunderman would choose to do most days, which is why he's nominated for Volunteer of the Year by Catholic Charities USA and is one of 36 finalists.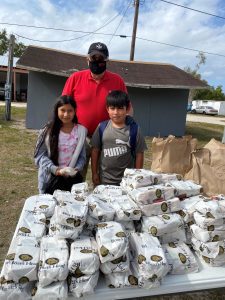 After moving to Bonita Springs from North Carolina, the former construction company owner noticed that Hurricane Irma had been very unkind to several migrant farmworkers' homes in the area. Much of the damage from the storm was still evident with blue tarps on roof tops and other interior issues left unresolved.
Gunderman, who knows all things construction, was quick to spring into action and assisted with getting estimates for repairs, and assured Catholic Charities, Diocese of Venice, Inc., that each job was performed by a reputable company who guaranteed the work. He soon developed a friendship with families he calls, "the poorest of the poor."
"These are the pickers, the packers, and such, and they're not represented – people we rely on to get our food," said Gunderman, from a Bonita Springs farmworker migrant camp, where he also volunteers to deliver food to families who do not have cars.
During the Pandemic when many locations were closed, Gunderman realized while working to repair the damaged mobile homes from Hurricane Irma, there were also hungry people who did not have transportation to pick up food for their families during this health crisis. It was a one-two punch to the families who were now out of work due to the Pandemic.
Gunderman, who joined the Order of Malta several years ago, soon crossed paths with Rebecca Maddox, owner of Three60 Market in Naples, who was donating food to organizations during the Pandemic.
Gunderman quickly began donating money to the cause of food production by Three60 Market, and through Catholic Charities volunteering offered to drive to the farmworker migrant camps a few days a week across Southwest Florida to bring nutrition to the hungry.
In a video to promote Gunderman's nomination, Most Rev. Frank J. Dewane, Bishop of the Diocese of Venice in Florida says Tim is "contagious" with his passion, and Catholic Charities CEO Philomena Periera says Tim sees the "Face of Jesus" in all he meets.
Gunderman has put in 1980 hours during this last year as a volunteer for Catholic Charities, Diocese of Venice, Inc.
"I grew up in a modest home, Okay. We had one bathroom.  I'm healthy, my kids are educated, what more do we need," said Gunderman, as he handed out sandwiches, chips, and Easter coloring books and crayons to the families who lined up to see him this day.  "If I have the opportunity, I can give back.  You know, how much money do you need?" Gunderman said, as he choked up.
Click here (https://vimeo.com/532460138) to view the full video of Tim Gunderman's work for Volunteer of the Year for Catholic Charities USA.