Seeking to recognize the basic tenets of the Venice Diocesan Council of Catholic Women (VDCCW) – spirituality, leadership and service – a group of young ladies was awarded the first ever Golden Rose Award during a recent luncheon.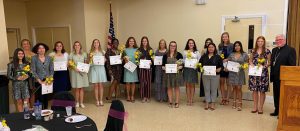 Bishop Frank J. Dewane, who presented the awards to the 2020 and 2021 recipients of the Golden Rose Award on April 10, 2021 at the Epiphany Cathedral Parish Hall in Venice, congratulated the young ladies for living out a particular call of God in the earlier portions of their lives.
"To those who received the award; you matter to the Diocese in what you do, who you are and most important of all, who you are becoming as young ladies," Bishop Dewane said. "You are leaders, and you have a call to be there at the Table of the Lord. We are all called, but what you do is distinctive. I urge you to continue to be active in your Parish, your school, your community and in the Church."
Explaining how much they are appreciated, the Bishop said their actions bring a spirit to their Parishes, which is of a natural energy and reflection of Faith which will serve to inspire others to follow their lead.
"The biggest celebration in your life of service is who you are becoming," Bishop Dewane added.  "Go forward with that idea of service in the Church. Make your mark. Take the ownership of who you are and truly become more that woman of God you are called to be."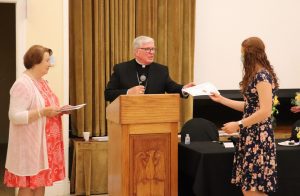 Felicia Gal, of St. William Parish in Naples is a graduating senior of St. John Neumann Catholic High School in Naples who also turns 18 in a few weeks was thrilled when she heard the news. "When I found out I was nominated it was as a huge surprise," Felicia said. "I do work with summer camps and sing at Mass as a cantor's assistant, but don't do that for recognition. It really is an honor to be here."
Felicia's mother, Maria Gal, explained that Felicia always wanted to be involved in activities at the Parish and in helping others. "I am so proud."
Ellen Bachman, VDCCW Co-President, helped bring the Golden Rose Award to Venice having learned about similar recognition taking place by CCW group in other Dioceses. Bachman said the "write-ups on these girls were both amazing and inspiring. They are our future Church."
Bachmann also read a congratulatory letter from Jean Kelly, the National CCW President, who said the foundation these young ladies have begun as active Catholic women will serve them well into the future.
Each Golden Rose Award recipient was presented with a certificate and golden rose. They will also receive a membership into the National Council of Catholic Women and a congratulatory packet all courtesy of the VDCCW.
Brenda Dolan, VDCCW Co-President, recognized the hard work of Anne De Camillo, President of St. William Parish CCW, who served as Chair of Golden Rose Committee.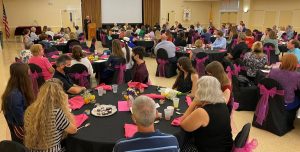 "We are here today to honor these young ladies who exhibit those miraculous gifts and graces," Dolan proclaimed. "There is a lot on your shoulders. Your values and commitment and the things you do let us know our Church and our country will continue to flourish."
To Golden Rose Award process began in 2020 when the VDCCW asked Parishes in the Diocese to submit the name of a girl from their Parish whose lifestyle exemplifies the mission statement of the National Council of Catholic Women – Spirituality, Leadership and Service. There were 26 Parishes that responded. The 2020 award ceremony was postponed due to the Pandemic and not all were able to be present for the luncheon.
Those receiving the award for 2020 were: Alexandra Solis, St. Michael Parish, Wauchula; Emily Sansone, St. Katharine Drexel Parish, Cape Coral; Mary Fiore, San Antonio Parish, Port Charlotte; Chloe Springer, St. John XXIII Parish, Fort Myers; Miriam Sandoval, St. James Parish, Lake Placid; Emmalee Brown, Epiphany Cathedral, Venice; Arianne Matson, St. Frances Xavier Cabrini Parish, Parrish; Valerie Castellan, St. Peter the Apostle Parish, Naples; Amber Rae Dyer, San Pedro Parish, North Port.
Those receiving the award for 2021 were: Naissa Esperace, St. Andrew Parish, Cape Coral; Sofia Herrero, St. Cecilia Parish, Fort Myers; Kylie Morgan Jones, St. Vincent de Paul Parish, Fort Myers; Gabriela Vasquez, St. Katharine Drexel Parish; Adriana Iofida, San Antonio; Lillian Brodeur, Our Lady of Light Parish, Fort Myers; Nicoy Jacas, Sacred Heart Parish, Punta Gorda; Sonia Hernandez, St. Michael Parish; McKayla Cantrell, Epiphany Cathedral; Krystyna Mioduszewski, Our Lady of Lourdes Parish, Venice; Julia Ann Glaser , Our Lady Queen of Martyrs Parish, Sarasota; Chloe Manes, St. Joseph Parish, Bradenton; Katherine Lumpkin, St. Michael the Archangel Parish, Sarasota; Felicia Gal, St. William Parish; Anna Bialkowski, St. Agnes Parish, Naples; Molly O'Brien, St. John Neumann Catholic High School, Naples; Trinity Nicole Forget, St. Ann Parish, Naples; Anne Marie Swafford, Resurrection Parish, Fort Myers.