Nearly 100 catechists met over the weekend of June 12 and 13, 2021 at one of 10 Parishes to complete a "Scripture" workshop. These catechists completed the basic certification program from the Franciscan at Home online program.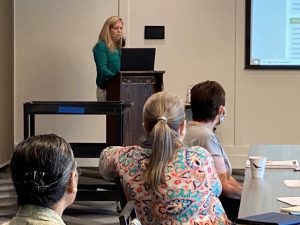 Anne Chrzan, Diocese of Venice Director of Religious Education, along with the directors of religious education from eight Parishes, created the four-session summer series. Based upon the concept developed by the online courses of Franciscan at Home, three classes on the topic of Scripture were held during a single day for the catechists and teachers.
The remaining sessions will be held on Saturdays and Sundays in June and July.  During each session, the catechists and teachers watch the videos and discuss the questions in small groups instead of watching the videos online at their home. The option of completing the classes online is still available.
Chrzan said the feedback from the first session was very positive.
"Many catechists and teachers enjoyed being with others in person to discuss the material and share their faith with people who are serving in the same ministry at the parish or school," she said. "They also enjoyed the flexibility of completing three classes in one day."
The three sessions remaining are "Sacraments," which is being offered the weekend of June 26 and 27; "Morality and Doctrine," on July 10 and 11; and "Methodology" on July 24 and 25.
The Parishes hosting this program are St.  Ann and St. John the Evangelist in Naples; Resurrection and St. Cecilia in Fort Myers; St. Katharine Drexel in Cape Coral; Sacred Heart in Punta Gorda; St. Thomas More and Our Lady Queen of Martyrs in Sarasota; as well as St. Joseph and Sacred Heart in Bradenton (in Spanish).
For more information or to sign up for future classes, please contact Anne Chrzan at 941-484-9543 or chrzan@dioceseofvenice.org.