Damage caused by Ian repaired within 100 days
Patience, teamwork, hard work, perseverance, and faith were all needed to overcome the destructive impacts of Hurricane Ian at Epiphany Cathedral Catholic School in Venice.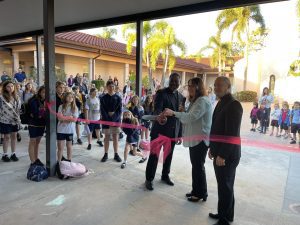 In less than 100 days, repairs to the main school building were far enough along to ensure all students would safely and joyfully return to their original classroom. It was Sept. 28, 2022, when Hurricane Ian tore off the roof of the main building, allowing water to pour into the classrooms. Replacement of the roof, HVAC and other items, as well as the ceiling tiles and floors of nearly every room, were needed before a return to the classroom could take place.
A celebration of this momentous accomplishment occurred during the morning assembly on Jan. 9, 2023. Students, faculty, staff, and parents gathered as everyone cheered the reopening of the building which houses grades one through eight.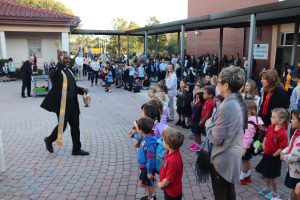 "What a wonderful day," Principal Nicole Loseto proclaimed. "When the hurricane struck everyone rallied together to salvage what we could to relocate classrooms all over the campus in just two days. It was a challenge to move everyone to a new location and it was seamless and beautiful… Now everyone came together to get us back into our main building. Thank you, everyone!"
Loseto singled-out several maintenance and support staff who went above and beyond in their help during the crisis. She also praised Bishop Frank J. Dewane and his Diocesan staff for overcoming many issues since the storm. Also recognized were Cathedral Rector, Msgr. Patrick Dubois, and Operations Manager Wendy Barraso, for overseeing the logistics of the repairs.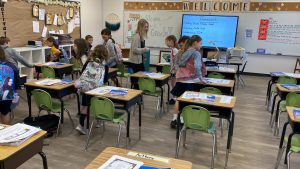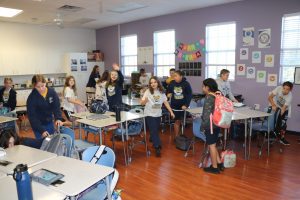 Only the pre-kindergarten students were not displaced by Hurricane Ian. The disruptions were extreme as kindergartners were housed in the library; first and second grades were placed in the cafeteria with a divider; fourth and fifth graders were in the Parish Hall; and middle schoolers were split between the Soy Hall and two gymnasium locker rooms.
Loseto said the students and faculty handled the transition well, adjusting and surmounting any difficulties, comforted in the knowledge that mitigation and repairs began within days. While everything was not perfect, Loseto said patience and understanding was shown in all.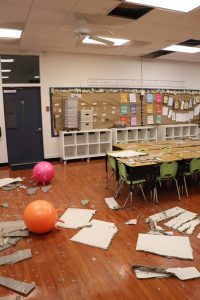 She also gave a shout out to the many people who helped support the recovery effort through financial support which helped ease the burden on the school.
Father John Belmonte, SJ, Diocesan Superintendent of Catholic Education, was present for the morning assembly and was quick to acknowledge that Loseto herself led everyone through the storm and its aftermath.
"When we first talked about how we were going to open school, even though you didn't have the main school building, a lot of good ideas came forth on how to do that, and certainly, most coming from Mrs. Loseto. So, I think we owe her a big applause," Father Belmonte exclaimed as everyone joined in that acknowledgment.
Msgr. Dubois led a prayer service and blessed the repaired building. A ceremonial ribbon-cutting ceremony took place before everyone entered the building.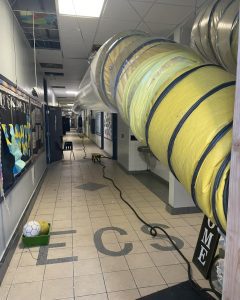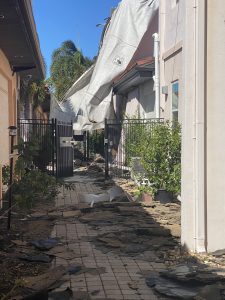 Ahead of the reopening, a team of faculty staff and parents moved all of the desks and other educational items from their temporary rooms to the main building. The upper grades were allowed in the building on Jan. 6, the 100th day since Hurricane Ian struck Venice.
The younger grades, including Nicole Semlow's second grade class, got their first look at their refurbished classrooms after the morning assembly. They were impressed.
Lots of oohs and wows were exclaimed as they entered the classroom to the smell of fresh paint and newly laid flooring. The smiles were radiant as they returned to their own room, their own desks, a place they had come to love before Ian. Now the classroom, without any outside distractions, was a place of normalcy for the students.
The students, faculty, staff and parents of Epiphany Cathedral Catholic School started the first full week of school in 2023 with a celebration they won't soon forget. It marked an opportunity to turn the page beyond the immediate aftermath and recovery of Hurricane Ian into what is a "normal" routine of a Catholic education, including study, fun and prayer.
If you would like to support Epiphany Cathedral Catholic School in their continuing recovery, please visit www.ecstigers.com.