Staff Report
The Christian Chamber of Southwest Florida has honored Epiphany Cathedral Catholic School teacher Joyce Kiegher with its "Golden Halo Award" during an April 5 gathering in Naples.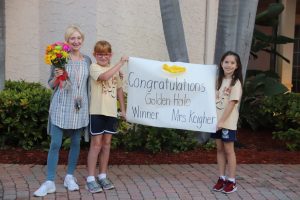 Kiegher won the Grade 3-5 category and to mark the occasion she received a special congratulations at the school in Venice during the April 11 morning assembly and prayer service.
Epiphany Cathedral Catholic School Principal MC Heffner described 3rd Grade Teacher Kiegher as someone who embodies Catholic Education in everything she does, by giving all of herself to her students each day.
Heffner presented Kiegher with a vase of flowers and a pair of students shared a banner saying "Congratulations" with a golden halo mounted on top, as the entire student body applauded and cheered.
"This is just so incredible," Kiegher said. "I do what everyone else does – I care about my students. They are my children."
She noted that she started her teaching career in public schools but that didn't last long. "I found a beautiful home in Catholic Schools and here at Epiphany," Kiegher said. "I feel so blessed to have the opportunity each day to come here and help young minds learn. That is a wonderful gift I have been given."
Each year since 2007, the Christian Chamber of Southwest Florida honors the very best teachers in Christian education with the "Golden Halo Awards." The mission of the awards is "Recognizing Christian teachers who educate motivate and Inspire their students."
The organization has grown over the years and with the inception of the "Golden Halo Awards" has made it possible for teachers in Christian based schools to be recognized for their professionalism, love for teaching, and love of their faith. There are four awards that are presented each year, one for each category for grades K-2, 3-5, 6-8, and 9-12.
The awards process includes nominations, school visits and interviews and references. The Golden Halo Program gives a $1,000 scholarship to the school of each winner.
Also nominated in the same Grade 3-5 category was Michelle Marks of St. Ann Catholic School in Naples. St. Ann teacher Lynn Hoffman, who won the 2018 Grade 3-5 Golden Halo Award, was a feature speaker at the awards banquet.