In July Catholic Charities Diocese of Venice Inc. served more than 15,000 individuals and families at six area food pantries.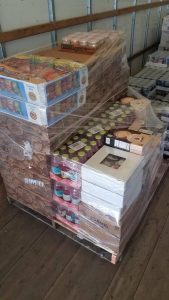 That brings the total to more than 60,000 assisted with food since the COVID-19 Pandemic began in March 2020.
Donations for individuals and area businesses have helped Catholic Charities meet the demand. For example, the Fort Myers Restaurant Depot donated several pallets of food to the Elizabeth K. Galena Center in Fort Myers.
If you need help
If you need assistance from Catholic Charities for food, financial assistance or tele-mental health counseling, please call the number for your area listed below 9 a.m.-5 p.m., Monday-Friday. Services have expanded to include assistance in applying for state and federal benefits if you have lost work due to the COVID-19 Pandemic:
Sarasota/Manatee/DeSoto/Hardee/Highlands counties: 844-385-2407,
Charlotte/Lee/Hendry/Glades counties: 844-385-2423,
Collier County: 844-385-2404.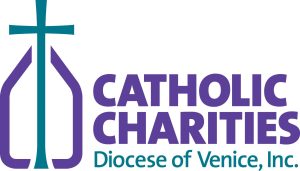 Food distribution
Catholic Charities food distribution will take place only at the following times and locations. Please call the regional number for more information.
Monday-Friday, 9-11 a.m., Guadalupe Social Services, 211 S. 9th St., Immokalee, the Soup Kitchen is providing take-out/meals-to-go;
Tuesdays, 9-11:30 a.m., Judy Sullivan Family Resource Center, 3174 Tamiami Trail E., Naples;
Thursdays, 9 a.m.-noon, St. Margaret Parish, 208 Dean Duff St., Clewiston;
Fridays, 9-11 a.m., St. Leo the Great Parish, 28360 Beaumont Road, Bonita Springs;
Fridays, 9 a.m.-noon, Elizabeth K. Galeana Pantry, 4235 Michigan Avenue Link, Fort Myers;
2nd and 4th Fridays of the month, 8:30-10:30 a.m., St. Paul Parish, 1208 E. Oak St. Arcadia.
How to Help
Catholic Charities Diocese of Venice Inc. is in urgent need of your financial support during its response to the COVID-19 pandemic. To help, please visit www.catholiccharitiesdov.org/donate or send a check to: Catholic Charities, Diocese of Venice Inc., 5824 Bee Ridge Road, PMB 409, Sarasota, FL 34233-5065.