Bob Reddy – Florida Catholic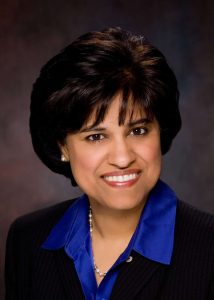 Philomena A. Pereira devoted her career to serving those in need and is a perfect fit as the new Chief Executive Officer of Catholic Charities Diocese of Venice Inc.
Selected through a search process that included select members of the Catholic Charities Diocese of Venice Inc. Board of Directors as well as Bishop Frank J. Dewane, Pereira was hired in April.
She joins Catholic Charities with more than 25 years of experience working in the social services sector. Pereira has served as the Executive Vice President and Chief Development Officer at Tidewell Hospice in Sarasota.  Prior experience includes CEO at Catholic Social Services in Morris County, N.J., and Assistant Vice President, Community and Long-Term Services at St. Joseph's Hospital and Medical Center in New Jersey, as well as work with additional not-for-profit organizations.
Born in Goa, India, her family emigrated to the United States when she was a child. While in India, she went to a boarding school run by the Sisters of the Cross from Great Britain, and credits the sisters with giving her the drive for excellence and to always make sure God was first.
A graduate of Ramapo College in New Jersey, and with a Master's in Social Work from Columbia University School of Social Work, Pereira learned from both personal and professional experience the importance of being both diligent and vigilant.
"The key to a successful non-profit is to first run it like a business; but with compassion," she said. "We have to fight and be vigilant for the clients that we are serving. We have to do things the right way all of the time, not just some of the time."
In the first two months, Pereira has been occupied with learning about the 65 different programs run out of 32 different offices in the 10-county Diocese. By visiting as many of those offices as time allows, she vows to meet each employee by the end of the year. She is doing this while also ensuring that important connections are kept with community partners and grant funders.
"Unfortunately, the need within our community continues to increase, exponentially!" she said. "As the change in funding and external environment is rapidly shifting, Catholic Charities will need to continue to strive for impact and deliver outcomes so important to the health and vibrancy of Southwest Florida."
Pereira notes that the Board, donors and volunteers who help Catholic Charities, through the execution of the fabulous events, through their personal involvement and engagement with others, "is tangible expression of our responsibility in service to our neighbors in need and our community at large.  Catholic Charities makes a difference!  I am really proud to be associated with Catholic Charities here in the Diocese of Venice."
Pereira is a parishioner of St. Patrick Catholic Parish in Sarasota and serves on several boards.  She is active in the local community, and a member of the 2009 Class of Leadership Sarasota.
Philomena A. Pereira can be reached at 941-488-5581 or pereira@dioceseofvenice.org.