By Michael Morse, Executive Director, Catholic Community Foundation of Southwest Florida.
Donor Advised Funds, or DAFs, have been around for quite a while, but more people have been hearing about them over the past few years. In fact, you may have already asked yourself, "What exactly is a DAF and is it right for me?" Simply put, a DAF helps individuals and families manage their charitable donations in a simple and easy manner. It's your "Charitable Checkbook."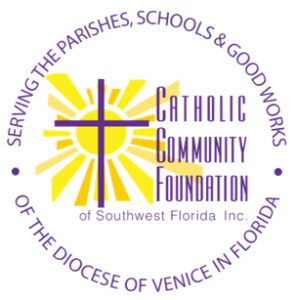 DAFs are like charitable checkbooks because they provide a flexible way for donors to make a charitable contribution, receive an immediate tax deduction for the maximum allowable amount and then recommend grants from the fund to various charitable entities whenever they want. Donors can contribute to their fund as frequently as they like and can even choose to deposit their fund in the Foundation's investment pool and have it potentially grow tax free.
In addition, DAFs are simpler and more cost effective than creating a private foundation, can allow you to remain anonymous and protect your privacy when supporting a charity, and can help establish the spirit of generational giving within families. Unlike private or family foundations, there are no minimum annual distributions, no staffing or legal fees, no annual tax filing requirements, and no heavy regulations by the Internal Revenue Service (IRS).
Many people began using DAFs when the IRS nearly doubled the standard deduction in 2017 in order to take advantage of a tax strategy called "charitable bunching." Bunching is when you combine multiple years of charitable giving into your DAF in a single year so that you can itemize your tax deductions in that year and take the standard deduction in the following years, thus maximizing your tax savings. You then use your DAF to make all of your charitable donations in the following years.
Now is a great time for Catholics within the Diocese of Venice in Florida to open Donor Advised Funds with the Catholic Community Foundation of Southwest Florida because there is currently no minimum amount required to start a fund. Additionally, donors can be certain that no funds will ever be used by the Foundation to support entities or causes that are not in keeping with our Catholic Faith.
Donors that open DAFs with the Foundation are able to support any Catholic entity within the United States or any other qualified social-service or pro-life charity within the United States whose mission is in alignment with the teachings of the Catholic Church. In addition, they can choose to invest their DAF in a Catholic-screened portfolio.  Which means the Foundation avoids investments in companies with business practices, products or services contrary to our Catholic Faith.
The Catholic Community Foundation of Southwest Florida began operating in 2004 as an independent 501(c)(3) not-for-profit organization that works with all the Parishes, Schools and Catholic entities within the Diocese of Venice. The Foundation provides the tools and resources to help Faith-filled donors provide long-term support to the Catholic entities of their choice.  Last year alone, the Foundation distributed more than $5.2 million in support throughout the Diocese and beyond thanks to the generosity of so many Catholic donors.
If you would like to learn more about creating a donor-advised fund with the Catholic Community Foundation, or if you would like to learn more about other gifting options, please contact Michael Morse at 941-441-1124 or Morse@dioceseofvenice.org.