Bob Reddy – Florida Catholic
This year marks the 81st anniversary of "Kristallnacht, the Night of Broken Glass." It was on the night of Nov. 9, 1938, when members of the Nazi party attacked Jewish persons and destroyed Jewish owned property in Germany and Austria. Kristallnacht is generally regarded as the beginning of the Holocaust in Europe which ultimately led to the murder of more than six million Jews.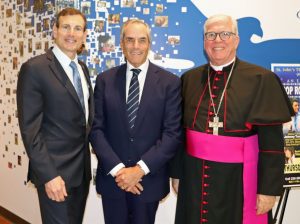 To commemorate those events, the Catholic-Jewish Dialogue of Collier County hosted its annual "Kristallnacht: The Night of Broken Glass" Nov. 17 at St. John the Evangelist Parish in Naples. The event, now in its 16th year, was co-sponsored by the Diocese of Venice and Jewish Federation of Greater Naples.
On behalf of the Diocese, Bishop Frank J. Dewane said that while Kristallnacht may seem like the distant past, the threat remains. Bishop Dewane quoted Pope Francis who recently expressed his concern about reports of escalating anti-Semitic violence around the world, even in the United States, including acts of vandalism.
"It is as if we are beginning again and that some glass might be shattering," the Bishop continued. "We gather so the past is not forgotten or still worse allowed to be denied by some. We gather to remember the lives, the human beings, that were lost to the senselessness that occurred. Inhumane violence of another time. In so doing, we strive to prevent, by our gathering, the recurrence of Kristallnacht and the Holocaust."
The keynote speaker was Rabbi Stephen Fuchs of the Bat Yam Temple of the Islands on Sanibel. Rabbi Fuchs' spoke about his father, a victim of Kristallnacht who was arrested and sent to Dachau concentration camp. He was fortunate to have escaped with his life, unlike the more than six million Jews who were murdered during the Holocaust.
"We cannot undo the past," Rabbi Fuchs said. "The future is ours to share. What kind of future will it be? The answer is in our hands."
In a moving tribute, survivors of the Holocaust lit candles in honor of those Jews who were murdered during the Holocaust. A candle was also lit by second- and third-generation survivors. The candles served as a symbolic commitment that those in attendance are responsible for one another and there is no room in the world for hatred. And to say "Never Again!"