Bob Reddy – Florida Catholic
The journey of the Easter Season is concluded and the gift of the Holy Spirit has descended to provide wisdom, knowledge, understanding, fortitude, good counsel, piety and fear of the Lord – all gifts of the Spirit.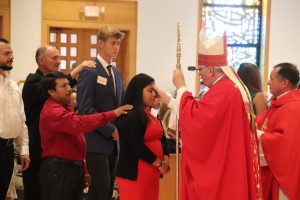 Celebrated on June 9, Pentecost Sunday marks an important transition in the lives of the Apostles and clarifies their mission in creating the Lord's Church on earth and is traditionally viewed as the "birthday" of the Church.
Also on Pentecost, those who have been baptized and are seeking to be more fully united to Christ within the Church, receive the Sacrament of Confirmation at cathedrals around the world. At Epiphany Cathedral in Venice, Bishop Frank J. Dewane bestowed the sacrament upon 65 women and men representing 17 parishes across the Diocese.
Deybi Diaz Rodriquez of St. Agnes Parish in Naples said she was overwhelmed to have received the Sacrament of Confirmation from Bishop Dewane at the Cathedral.
"I am so happy right now," Diaz Rodriguez said. "My whole family was here and that is so special. As the Bishop said, I feel like the Holy Spirit has come upon me and will be with me forever."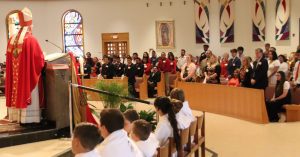 The confirmandi responded to Christ's call and made themselves available to Him in prayer, explained Cathedral Rector Father Jack Costello. "Through study and reflection, they have learned the truths of our Faith. Through acts of service they have demonstrated their love for Jesus. Their Pastors and catechists have assured the Church of their readiness to receive this Sacrament."
Bishop Dewane praised the confirmandi for their courage in being witnesses of their faith and encouraged them to become an advocate for Jesus Christ. He noted that they take on a new relationship with the Lord that must come from the heart.
Continuing, the Bishop said, upon receiving Confirmation, the confirmandi must reflect upon the gifts of the Holy Spirit – wisdom, understanding, counsel, fortitude, knowledge, piety, and fear of the Lord – "because each one of them is about your relationship with God and will help you answer the question 'Who is God in my life?' Know God in your life!"
The Spirit which is Pentecost, should become a part of who they are, the Bishop concluded. "Let this help you become more that man and women of God you are called to be through the strengths and gifts of the Holy Spirit."
The Sacrament of Confirmation includes the anointing with the Sacred Chrism – consecrated at the Chrism Mass during Holy Week – and placed on the forehead when the Bishop says: "Be sealed with the Gifts of the Holy Spirit."
This Sacrament imbues the recipient with the Holy Spirit, making them an advocate for the Lord. "This becomes a permanent part of who you are. Live your faith to the fullest. Use these Gifts of the Holy Spirit every day. They must become part of who you are. The more you use them, the closer you will grow to the Lord."