Sarasota Pastor receives Rotary honor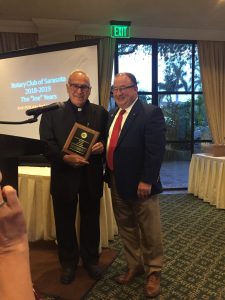 Father Celestino Gutierrez, Pastor of St. Jude Parish in Sarasota, was recently honored by the Rotary Club of Sarasota with their "Citizen of the Year" award. Father was presented the award by Rotary Club President Joe Devore, for service to the community, in particular his focus on helping the poor and the needy.  Father Gutierrez commented that, growing up in Spain, he never anticipated receiving such an award in the USA.
Mooney students go on Mission Trip to Jamaica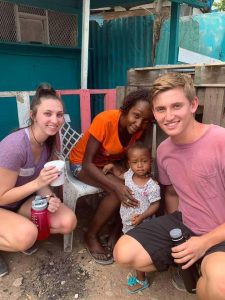 A group of Cardinal Mooney Catholic High School students from Sarasota went on a mission trip to Jamaica the week of June 17. During their trip the youth, who are all part of the Mooney Pivotal Directions mission club, worked in poor villages to help the needy of the area.
Immeasurable Mercy worship event July 25 on Sanibel
Take time to tend to your soul, for an Immeasurable Mercy worship event July 25, 7 p.m., St. Isabel Parish, 3559 Sanibel Captiva Road, Sanibel. The event will feature the music of Mark Shapic with vocals by Jennine Fuentes. There will be praise and worship, live music, adoration, confession, games, pizza and desserts. Please RSVP to Sue Ellen Nolan at239-472-2763 or sueellen.nolan@saintisabel.org.
Verot grad selected to MLB All-Star Game
Daniel Vogelbach, a graduate of Bishop Verot Catholic High School, and current Seattle Mariners designated hitter was selected to the 2019 Major League Baseball All-Star game, which was held July 9 in Cleveland. At the All-Star break, he had 20 home runs and a .244 batting average. Vogelbach help lead the Verot Vikings baseball team to the 2011 Florida Class 3A State Championship and shortly after graduation that same year was drafted 68th overall in the second round by the Chicago Cubs. Vogelbach set a Vikings single-season record with 17 home runs. He also led the team in batting average .459, hits (39), triples (4), walks (27), RBI (50), on-base percentage (.571) and slugging (1.224). After playing in the Cubs farm system, he was traded to the Mariners in 2016 and made his major league debut Sept. 12, 2016, earning his first hit the next night.
Knights on Bikes looking for riders
If you're driving almost anywhere in Florida or the United States… you've probably seen or noticed a motorcyclist on a Harley Davidson, or another motorcycle, with a Knights of Columbus patch and a cross on their leather riding vests along with various other patches. Many Knights of Columbus have asked, "Who are these guys?" Well these are the Knights on Bikes and they are Knights of Columbus first and foremost dedicated to their roles of Knights of Columbus, the Dioceses of Venice, and the Holy Spirit! If you are a current, or planning to become a, Knight of Columbus with a positive passion for motorcycles and would like to ride with fellow positive minded Knights on Bikes, please consider joining. Knights on Bikes is always looking for properly formed good spirited Catholic men within the Diocese of Venice and other Dioceses for rides and fundraising. The motto is, " In God We Trust and Ride." For more information, please contact Venice Diocesan Knights on Bikes Chairman George Lopez for details at Knights1314@yahoo.com.
Arcadia senior housing opening soon
Catholic Charities, Diocese of Venice announces the completion of St. John Paul II Villas in Arcadia – a brand new development for Senior, Low-Income Housing. Apartments available consist of 1 or 2 bedrooms and are available for individuals 55 years of age and older, or handicapped or disabled. Income restrictions apply. For more information please call 863-884-2123.
Home Buyer Education Workshop
Catholic Charities offers a free Home Buyer Education Workshop every month in Bradenton and Sarasota in both English and Spanish. Potential home buyers receive important and useful information on how to purchase a home. For information, call Catholic Charities at 941-714-7829.