The South Pacific, home to idyllic remote islands, is often considered by many to be a tropical paradise and the ideal vacation destination.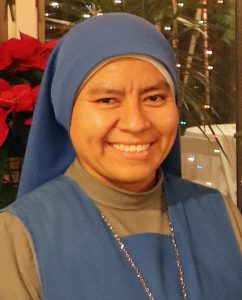 A vacation will be far from the mind of Sister Maria Madre de le Alborada Quizhpe, a Servant Sister of the Lord and the Virgin of Matara, when she begins her long journey to Wagina Island in the Diocese of Gizo in the Solomon Islands. That is the location of her next missionary assignment.
Sister Alborada will be leaving her current assignment on Dec. 20, 2021, after three years at St. Michael Parish in Wauchula. She will have the opportunity to visit her home in Ecuador for the holidays and then in early January 2022, she will fly to the Solomon Islands which are southeast of Papua New Guinea and was the location of extensive fighting throughout World War II. Upon arriving, Sister, and two fellow missionary sisters from her Religious Order, will be in COVID-19 quarantine in a hotel for 21 days.
After that long delay, it is a plane ride and a boat ride to where her new home will be, Wagina Island. The island is home to approximately 1,700 people who speak Pidgin and Kiribati and where English is seldom used. The Religious Family of the Incarnate Word, which includes the Servant Sisters, have been given the task to evangelize the island, with the first priest arriving in early 2018.
While the journey will be long in time and distance, it pales in comparison to how long Sister Alborada has been waiting for clearance to go to Wagina Island. She was weeks away from leaving is the first quarter of 2020 when the global pandemic put everything on hold, until now.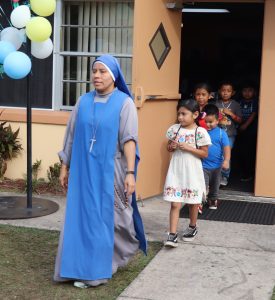 "It is when God wants you to be there," Sister explained. "It is time. I did my best here in Florida, and am sad to leave, but I am happy to be going, as my next missionary adventure awaits."
Sister Alborada is no stranger to missionary work in remote places, having served for eight years in Guyana before arriving in the Diocese of Venice in 2018.  While in Wauchula, Sister said "the people of St. Michael welcomed me as part of their family, and they are a part of mine. In a way, they will be taking this journey with me."
Part of her time has been running the food pantry, which became an even greater task during the global pandemic as the needs dramatically increased. "It was a physical and mental workout and a special time when you see the need and have the opportunity to help people in a fundamental way."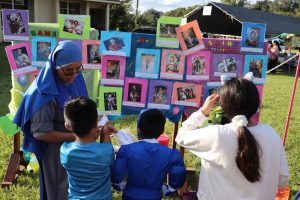 Admittedly, her favorite part of life in Wauchula has been as a catechist, teaching young children about the Catholic Faith.
Sister described that experience: "Teaching the little ones is special, because you know how much they can learn. When you place before them good information, they will never forget about that. And the little faces when they realize who is God. Wonderful! Or when you are telling of the story of the Angel appearing before the Blessed Virgin Mary. They don't question. They have such pure minds. It's amazing when their little eyes just shine when they learn something new. Beautiful!"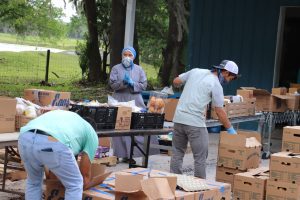 While in Wauchula she learned from her fellow Religious and the faithful new and fun ways to evangelize, such as through festivals and games. In her return to a more remote missionary life, Sister will be helping with catechism and formation in her new Parish and beyond.
"As a missionary, you have to help people keep the Faith alive because Father is not always there," Sister Alborada said. "We are going to have a kindergarten next to the Parish Church and begin religious education classes while also helping with the health center."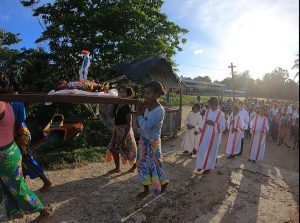 While much of her work will be focused in one location, there are several Chapels on the island where she will visit and evangelize either alone or with other sisters or the priest.
In preparation for her journey, Sister Alborada has been praying a 30-day Novena to St. Joseph. She has also been gathering a variety of supplies for her missionary work and for her basic needs. The island is so remote that a two-hour boat ride and similar plane ride just gets one to the nearest large town. It is also very expensive to ship items and it can take days or weeks for specialized items to arrive, if at all. In addition to water filters, toiletries and clothing, Sister's admittedly overloaded luggage will include a ciborium, chalice, crucifix, and statues of St. Joseph and Our Lady.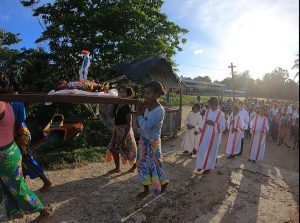 Sister Alborada said the Children's Christmas Pageant – an annual elaborate nighttime recreation of the Nativity with live animals and a baby is scheduled for Dec. 18 and will be the last big event she sees before leaving Florida two days later.
"It will be wonderful to see, and a little sad. I will be leaving a piece of my heart behind after having the opportunity to be with such wonderful people."