"When the angels went away from them to heaven, the shepherds said to one another, 'Let us go, then, to Bethlehem to see this thing that has taken place, which the Lord has made known to us." So they went in haste and found Mary and Joseph, and the infant lying in the manger. When they saw this, they made known the message that had been told them about this child." Lk 2:15-17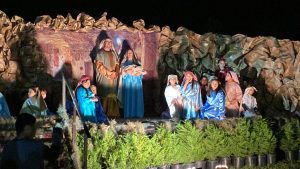 Passed through generations, the retelling of the coming of Our Lord, Jesus Christ, in such a humble way, born in a manger to reign over the world, should cause everyone to pause and reflect on the gifts of grace that have come to each one of us.
This pause and time of reflection is at the heart of what Christmas is all about. This moment was celebrated throughout the Diocese of Venice in a variety of ways, most significantly through the Holy Sacrifice of the Mass.
Bishop Frank J. Dewane celebrated a pre-recorded TV Mass for the Homebound from St. Thomas More Parish in Sarasota. This hour-long Mass reaches thousands of those who are unable to attend Mass for a variety of reasons.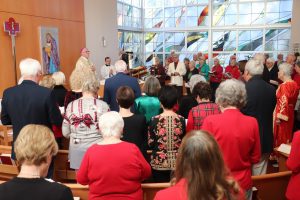 Bishop Dewane also celebrated Christmas Eve and Christmas Day Mass at Epiphany Cathedral in Venice. At the Midnight Mass, the Bishop brought forth the Child Jesus and placed Him in the manger as "O Come All Ye Faithful" was sung.
During the Midnight Mass, Bishop Dewane reminded the faithful that we are part of Salvation History. "We are living it today and we have a contribution to make, however small, it is there to be made by each one of us."
As a part of Salvation History, we are each given a mission and responsibility to serve the Lord as His plan is to unite us to Him, Bishop Dewane said.
"God has sought you and me," the Bishop said. "In striving for the mission, He gives to us our responsibilities in life… In response, we need to establish and develop our relationship with Our Lord, Jesus Christ… Take this Christmas as an opportunity to reflect upon how it is you are responding to the call of the Lord. Reflect the Light of Christ continually, knowing the Child in the manger represents our Salvation, and everyone has a role to play in that History."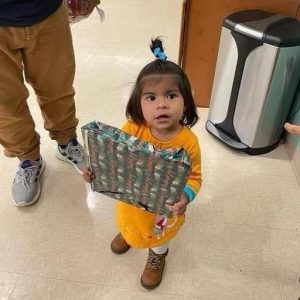 The manger, or Nativity scene, is a celebratory focus of the Christmas celebration. Several Diocesan Parishes and each Catholic school took time to have a retelling of the birth of Jesus with young children and in some cases with live animals.
For example, at St. Michael Parish in Wauchula a living Nativity play on Dec. 17, 2022, included a donkey, horses and many angels and shepherds. This community celebration is organized by the religious women who serve the Parish, the Sister Servants of the Lord and the Virgin of Matara, and includes a festival and the distribution of gifts for the children in the area. This year's celebration took on a special significance as many families are struggling after being impacted in their homes or work from Hurricane Ian on Sept. 28, 2022.
St. Agnes Parish and St. Elizabeth Seton Parish, both in Naples, hosted living nativity displays through which people walked or drove.
Christmas is also a time to help others so donations for the needy and the many impacted by Hurricane Ian were piled high and distributed. The most common form of collecting items for needy children is through an Angel Tree, where the ornaments are a wish list item for a child or family.
Some Parishes collected general donations for organizations in the area, such as Catholic Charities, the Society of St. Vincent de Paul and others. Many gave from their heart and brought bags of items well beyond what was sought. Naturally, no donated item was turned away and it just meant more people were granted a Merry Christmas.
Catholic schools spent much of the month in preparation for Christmas with pageants, recitals, concerts, parties and other fun. At the same time, the schools teach the true meaning of Christmas, including needing to spread the love of Christ, that is in their hearts, out to the world.
Young carolers from schools in Port Charlotte, Bradenton, Sarasota and Fort Myers visited nearby assisted living facilities to spread holiday cheer.
In addition, each school has a service component where students do work, volunteer or raise funds or gifts to give back to the community. This effort goes into high gear during the Christmas Season.
For example, at St. Martha Catholic School in Sarasota, second graders partnered with the Department of Children and Families and Florida Guardian Ad Litem program that provides items to give foster kids a normal life. The students created cards, ornaments and filled gift bags for the foster children.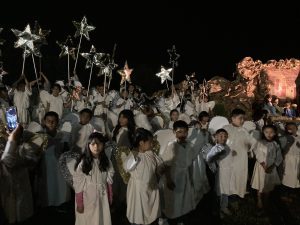 Meanwhile, the eighth graders at the school and nearby Parish, worked together to learn about Catholic social teachings, to help those in need. The results were amazing. The Sarasota youth created 140 gift cards and handmade Christmas ornaments for the elderly residents at a Catholic Charities facility; donated 100+ blankets for the homeless; made Get Well/Christmas Cards for those in the hospital; collected and donated toys and household items for needy families; stocked pantries with food and supplies; and much more.
At neighboring Cardinal Mooney Catholic High School, students in the school chapter of the St. Vincent de Paul Society came in during their Christmas break to pack donated toys, books and stuffed animals on the Mooney "sleigh," and delivered them to boys and girls at Sarasota Memorial Hospital.
St. Charles Borromeo Catholic School in Port Charlotte and St. Elizabeth Seton in Naples each participated in the Wreaths Across America project. This effort puts Christmas wreaths on the graves of veterans in local cemeteries.
These are just a small sampling of how Christmas was celebrated throughout the Diocese of Venice.