Televised Christmas Mass for the Homebound
The televised Christmas Day Mass for the Homebound, with Celebrant Bishop Frank J. Dewane, will air for a full hour on Christmas Day. For viewers in the northern portions of the Diocese (DeSoto, Hardee, Highlands, Manatee, and Sarasota counties), the Mass will air at 9 a.m. on the CW Network. In the southern portions of the Diocese (Charlotte, Collier, Glades, Hendry, Lee counties), the Mass will air at 10 a.m. on WFTX-TV (FOX-4). Please check your cable provider for channel listings. The Mass will also be available at www.dioceseofvenice.org/tvmass. For more information email ardy@dioceseofvenice.org.
Students use food to create stable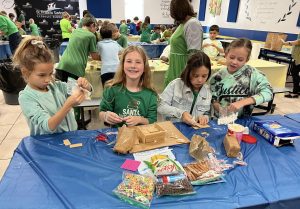 Fifth and second grade students at St. Francis Xavier Catholic School in Fort Myers collaborated on Dec. 19, 2022, to complete a "Chopped" style challenge. Each team was given a kit with many different types of food and supplies to build a stable and unique 3D Shape. The students had a fun and messy time working together on this STREAM (science, technology, religion, engineering, art, math) project! The students were lucky enough to have teachers and administrators come around to give feedback on their choices for the most creative.
Science and inventors recognized in Cape Coral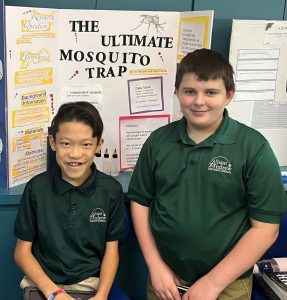 Middle school students at St. Andrew Catholic School in Cape Coral took part in their annual Science and Inventors Fair with judging taking place on Dec. 16, 2022. Projects included answering age-old questions such as "Is organic better than non-organic?" "Can plants grow with other liquids?" "How strong are dogs senses?" "Do horses sense weather changes?" "Are hamster balls humane?" "Which light is better for plant growth?" Or coming up with creations such as "Solar "S'Mores," "The ultimate mosquito trap," "The chipgrabber," "Putting the grip back in grip tape," "Toddler safety stool," "Fishing rod holster 2.0," and much more. This type of science fair helps students learn about the world around them as well as allowing them to perhaps invent something to make the world a better place. That is what a balanced STREAM (science, technology, religion, engineering, art, math) education is all about.
Former Diocesan Judicial Vicar dies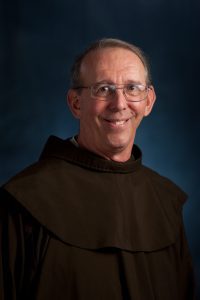 Father Arthur J. Espelage, OFM, former Judicial Vicar of the Diocese of Venice, died Dec. 9, 2022, in Columbus, Ohio at the age of 78. Born in Cincinnati, Father Espelage attended St. Francis Seminary in Cincinnati before entering the Franciscan novitiate on Aug. 15, 1962, and then entered Duns Scotus College in Southfield, Michigan, where he made his solemn vows on Aug. 16, 1966. He was ordained to the priesthood on June 12, 1971, at St. Leonard College in Centerville. He later earned a JCB, then JCD in canon law from Catholic University of America in Washington, D.C. As a priest, Father Espelage served in New Mexico, Ohio, and Palm Beach. In 2008, Father Espelage was named Judicial Vicar for the Diocese of Venice, a position he held until 2014. He then served at St. Meinrad School of Theology before taking a position as Adjutant Judicial Vicar for the Diocese of Tucson. A Mass of Christian Burial Friars is at the St. Anthony Friary and Shrine in Cincinnati on 11 a.m., Jan. 16, 2023.
Two Mooney graduates recognized for academic prowess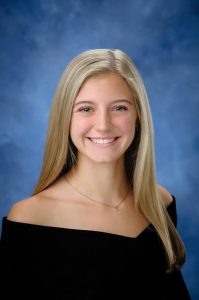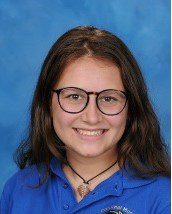 Two Cardinal Mooney Catholic High School graduates have been recognized for earning perfect scores on their college-level Advanced Placement® Exams in spring 2022, an achievement announced in December. Hallie Monserez and Madalyn Shuck are among an elite group of students, two of the only 306 in the world, to earn every point possible on an AP Research Exam and receive the maximum score on each portion of the exam. AP Exams are scored on a scale of 1 to 5 and they received the top score of 5. Furthermore, both Hallie and Madalyn received their Mooney AP Capstone Diploma, along with six other Mooney seniors, upon graduation in Sarasota in May 2022. AP Capstone is a diploma program from the College Board based on two yearlong AP courses: AP Seminar and AP Research. Both courses prepare students for college and career success through the development of critical thinking, academic research, collaboration, presentation, and time management skills.
Charlotte County Society of St. Vincent de Paul receives special donation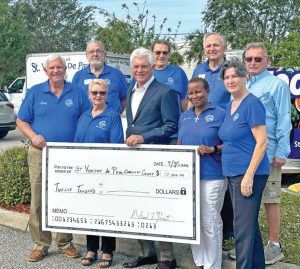 The St. Vincent de Paul Charlotte District Council recently received a donation of $12,000 from Florida State District 75 Rep. Michael Grant, which includes Charlotte County. The Society of St. Vincent de Paul provides services for those who are struggling with poverty, homelessness and hunger, and has been actively involved in the community and has met the increased demands since Hurricane Ian.
"The volunteer work of St. Vincent is critical to the health and welfare of our community," Rep. Grant said. "I am honored to assist them in their endeavors to help those in need as they deal with the aftermath of Hurricanes Ian and Nicole."
"Being residents of Charlotte County ourselves, we at SVdP know what it's like to have your life turned upside down by a disaster," said Joe-Ann Pierre, Charlotte District Council President. "We are so grateful for this donation to help those affected by these hurricanes."
To learn about volunteer opportunities or to make a donation, stay up to date with the latest news, see www.svdppg.org, call 941-575-0767 or follow the organization on Facebook at www.facebook.com/svdppuntagorda.org.
Benefactor of Catholic education dies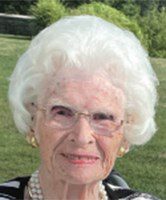 Rhodora J. Donahue, a strong supporter of Catholic education, died Dec. 12, 2022, in Naples at the age of 97. The matriarch of a large family (13 children, 84 grandchildren and 168 great-grandchildren), was married to the late John F. Donahue. Rhodora lived in the Pittsburgh, Pennsylvania area (Ligonier) for many years before settling in Naples in 1986. In Naples, the couple was a strong supporter of St. Ann Catholic School, St. John Neumann Catholic High School, St. Elizabeth Seton Catholic School and later the Royal Palm Academy (a school affiliated with the Diocese in Naples), and finally the Rhodora J. Donahue Academy of Ave Maria Catholic School in Ave Maria was established and named in her honor. A Mass of Christian Burial took place Dec. 21, 2022, at St. Paul Cathedral, Pittsburgh.
Catholic Charities Christmas Appeal continues

The 21st Annual Catholic Charities Christmas Appeal is continuing through January 2023. A donation to the Appeal strengthens Catholic Charities ability to provide much-needed support, for those recovering from Hurricane Ian, or who need any type of assistance in the region. This outreach is accomplished through more than 35 programs in locations throughout the 10-county Diocese. These programs annually support more than 100,000 individuals and families in ways both large and small. To support the Christmas Appeal, please visit www.catholiccharitiesdov.org or mail a contribution to Catholic Charities, Diocese of Venice, Inc., 1000 Pinebrook Road, Venice, FL 34285.
St. Ann Catholic School Foundation supporter dies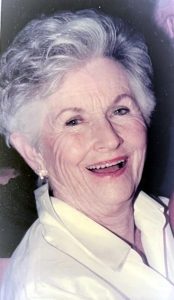 Mary Alice (Manning) Wasmer, co-founder of the St. Ann School Foundation Fashion Show, died Dec. 12, 2022, in Naples at the age of 98. Born and raised in Ohio, she married John "Jack" C. Wasmer, Jr., and they had seven children. Wasmer was active in the arts in the Cleveland area and transferred that passion to Florida, moving to Naples permanently in 1986. A patron of the arts, a gallery at Florida Gulf Coast University in Estero is dedicated to the family. Mary was dedicated to the support of children and Catholic education, championing events for inner city schools in Cleveland. In Naples, she continued her work with St. Ann Parish and the St. Ann School Foundation for several decades. Wasmer co-founded the Foundation fundraising fashion shows and was an honorary chair of the Foundation galas. A Mass of Christian Burial took place Dec. 17, 2022, at St. Ann Parish.