Christmas Day Television Mass for the Homebound
The televised Christmas Day Mass for the Homebound with Celebrant Bishop Frank J. Dewane will air for a full hour on Christmas Day. For viewers in the northern portions of the Diocese (DeSoto, Hardee, Highlands, Manatee, and Sarasota counties), the Mass will air at 9:30 a.m. on the CW Network. In the southern portions of the Diocese (Charlotte, Collier, Glades, Hendry, Lee counties), the Mass will air at 8 a.m. on WFTX-TV (FOX-4). Please check your cable provider for channel listings. Leaflet missals are available upon request by calling Gail Ardy at 941-486-4714 or by writing: TV Mass, Diocese of Venice, 1000 Pinebrook Road, Venice, FL 34285. For more information email ardy@dioceseofvenice.org.
Student artwork nationally recognized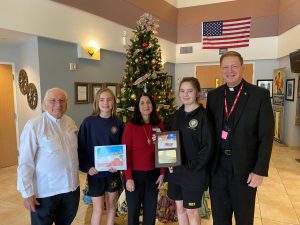 Two St. Martha Catholic School students named as 2018-2019 Missionary Childhood Association (MCA) Christmas Artwork Contest winners earlier in the year, were recognized locally on Dec. 13 for their achievement. Sixth grader Collier Moser, and seventh grader Charlotte Thompson were two of only 24 students nationwide to be recognized with this honor. Additionally, Charlotte's artwork was named one of two grand prizes and was reproduced as the Christmas Card of the national office of the Missionary Childhood Association. On Dec. 13, Father Bob Kantor, Director of the Diocese Office of the Propagation of the Faith (Missions Office), went to the Sarasota school for a presentation and to personally congratulate the winners and their art teacher, Mary Jo Salomone. Earlier in December, Charlotte attended a Mass in celebration for winners and their families at the Basilica of the National Shrine of Immaculate Conception in Washington, D.C. The artwork of all 24 student winners is on display there until mid-January.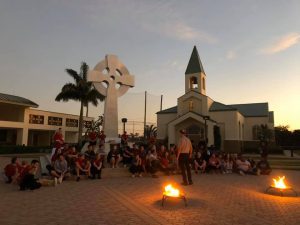 Mass Honoring Widows and Widowers in Naples Jan. 26
Bishop Frank J. Dewane will celebrate a Mass for all widows and widowers beginning at 3 p.m., Jan. 26, St. John the Evangelist Parish, 625 111th N. Ave., Naples. Dinner will follow in the Parish Hall. A display of photos will be available for viewing during the reception; should you wish to participate with a photo of you and your deceased spouse, please email Gail at ardy@dioceseofvenice.org, or send a copy in advance to Diocese of Venice, ATTN: Widows and Widowers Mass, 1000 Pinebrook Road, Venice, Florida 34285. There is no cost to attend. Registration is required to plan for food. To register visit www.dioceseofvenice.org/calendar. For more details contact Gail at 941-484-9543 or ardy@dioceseofvenice.org.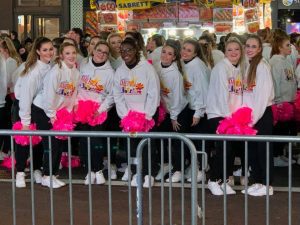 Christmas Appeal continues
The annual Catholic Charities Christmas Appeal occurs now through January. The goal is to raise $565,000 and your gifts are much appreciated! The Catholic Charities Christmas Appeal is the agency's largest fundraiser and critical to operating the social service organization. Your donation will benefit Catholic Charities programs and services available throughout Southwest Florida that assist individuals, families, and seniors all year long. Thank you for your giving spirit! To donate please visit www.catholiccharitiesdov.org or mail a donation to Catholic Charities, Diocese of Venice, Inc., 5824 Bee Ridge Road PMB 409, Sarasota, FL 34233-5065.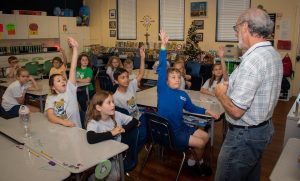 Mass Celebrating Haitian Independence
Bishop Frank J. Dewane invites everyone to participate in the Annual Mass celebrating Haitian Independence at 2 p.m., New Year's Day, at St. Leo the Great Parish, 28290 Beaumont Road, Bonita Springs. The Mass, which is on the Solemnity of Mary, the Holy Mother of God, brings together the various Haitian communities within the Diocese of Venice for one celebration. There is a reception after the Mass in the Parish Hall.
Apologetics Conference Jan. 16-17
The Diocese Office of Evangelization is offering three opportunities to attend an Apologetics Conference with Mike Aquilina. An award-winning author of more than fifty books on Catholic history, doctrine, and devotion, Anguilla will speak at 5:30 p.m., Jan. 16, Resurrection Parish, 8121 Cypress Lake Drive, Fort Myers; and then 8:30 a.m. and 6 p.m., Jan. 17, 2020, Epiphany Cathedral, 310 Sarasota St., Venice. The topics is "Defend Youth Faith: Finding answers to modern problems in the early Church." There is no cost, and all are welcome. For information, please call 941-484-9543, email  evangelization@dioceseofvenice.org, or visit www.dioceseofvenice.org/calendar.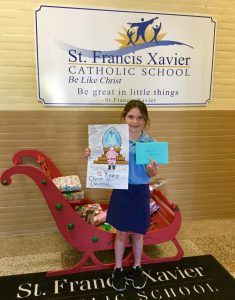 Card party in Englewood Jan. 8
The St. Francis Assisi Parish Women's Guild card party will be held at 11 a.m., Jan. 8, in the Parish Hall, 5265 Placida Road, Grove City. Play cards or games until 2:30 p.m.. Please make your reservations by Jan. 6 by visiting to www.sfoachurch.com – Parish Forms – Card Party – Reservation form, or by calling 941-697-4899 ext. 6 and leave a message with your name, phone number and number of people at your table. Tickets are $8 and includes your lunch, drinks, playing time and door prizes. All are welcome to attend.
Marriage Prep Retreat Jan. 11
St. Charles Borromeo Parish, 21505 Augusta Ave., Port Charlotte, is offering a pre-Cana retreat called for by the Witness to Love Marriage Preparation program from 10 a.m.-4 p.m., Jan.11. Engaged couples attend this retreat before their 5th meeting with their mentor couples, the Theology night with the priest or deacon. Mentor couples and couples preparing for convalidation through the Witness to Love Civil Marriage Initiative are also welcome to attend if they wish. The retreat will be held in the Saint Charles Parish Center from 10:00 AM to 4:00 PM.  The cost is $25 per couple.  Couples should register with Michael Barrett at (941) 585-0668 or faithformation@stcbc.org by January 4th.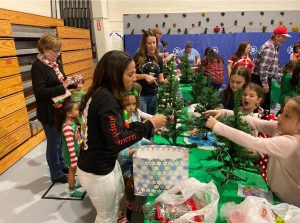 St. Ann Catholic School honored
The Naples Award Program has selected St. Ann Catholic School for the 2019 Best of Naples Award in the School category. The program is an annual awards outreach honoring the achievements and accomplishments of local business throughout the Naples area. Recognition is given to those that have shown the ability to use their best practices and implemented programs to generate advantages of long-term value.
Dinner for St. Vincent de Paul Society Jan. 14
The Knights of Columbus San Marco Council 6344 will sponsor the St. Vincent de Paul Society Dinner, 5:30 p.m., Jan. 14, in the San Marco Parish Center, 851 San Marco Road, Marco Island.  The barbeque dinner includes pulled pork or fried chicken, baked potato, baked beans, salad, rolls and butter, coffee, tea, and dessert. Soda, Wine and Beer are available at a cash bar. The cost will be $25 per person. Credit cards accepted.  Reserve a table. No take-out is available.  This event is open to the public and everyone is invited. Buy your tickets at the Church Office or by calling Joe Granda at 239-389-2823, Mickey Flynn 609-335-2458, Joe Swaja at 239-269-7033, Gene Consolo at 248-321-2204 or John DeRosa at 239-272-0816. For more information, contact 239-389-5633 or visit our website at www.marcoknights.com.