Stand up for Faith and Religious Freedom
Staff Report – Florida Catholic
11/15/2018
The Diocese of Venice will join other Dioceses around the world for a "Courage in Red" Prayer Vigil at 5:30 p.m. Nov. 28 at Epiphany Cathedral, 310 Sarasota Street, Venice. This annual initiative of Aid to the Church in Need is designed to raise awareness for persecuted Christians.
"Blessed are those who are persecuted for righteousness' sake, for theirs is the kingdom of heaven." Matthew 5:10–12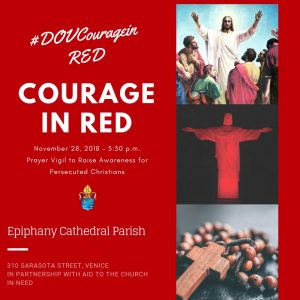 This year, the Cathedral will be illuminated in red on Nov. 28, for an evening Prayer Vigil and everyone is encouraged to attend. This special campaign is being held as a symbolic gesture of solidarity – by wearing/lighting Churches in red (the color of the martyrs) – in remembering those who have been martyred for their faith. All are asked to stand in solidarity with our fellow Christians as they fight for religious freedom today.
In Diocesan Catholic Schools, the students will be encouraged to wear red, explained Dr. Ben Moore, Diocese Superintendent of Catholic Education. Throughout the week, age-appropriate lessons will be provided about the plight of persecuted Christians. Catholic High School students will also be shown the documentary "Christians in the Mirror."
Additionally, the faithful are also encouraged to attend a daily Mass that day in place of a suffering Christian who cannot because they live in fear of practicing their Faith publicly.
Today, persecution of Christians is nearly as brutal and vicious as was experienced by Christians in the early Church. Many of our brothers and sisters in the Middle East and other regions are coming face to face with evil.
Some of the wounds of persecution are visible – machete scars to a young Christian's neck in Sudan or the burn marks to a young girl's face. Some attacks result in modern-day martyrs, like that of a priest in eastern Congo, shot in the head and killed inside his rectory. Or a Jesuit priest, shot twice and murdered in Syria, while protecting Christians trapped in an old monastery.
The Faith is targeted in many ways around the world. Christian practice and symbols are threatened in places like Pakistan, Iraq, Saudi Arabia, Egypt and Syria.  Persecution around the world has manifested itself through the centuries, but it is worse today than ever before.
Under the guidance of the Holy Father, Aid to the Church in Need provides pastoral and humanitarian assistance to the persecuted Church around the world.  For more than 67 years, the program has reached out to the suffering, the distressed and the poorest of the poor in over 145 countries. Each year, Aid to the Church in Need fulfills more than 5,000 projects through its spiritual and material aid programs. Its shared goal: To help strengthen the Church and keep the Faith alive.
All are encouraged to use the following hashtags #DOVCOURAGEINRED and #COURAGEINREDWITNESS.