Athletes from three Diocese of Venice Catholic high schools did well at the Florida High School Athletic Association Track and Field State Championships held May 7-8, 2021 at the University of North Florida in Jacksonville.
Top local athletes were:
John Neumann Catholic High School Junior Leah Martin-Gonzales took two Class 1A State Titles (100 hurdles and long jump), and was part of the 9th place 4X100 relay;
Neumann Junior Joshua Gulapa finished 3rd in the Class 1A 110 hurdles, and 4th in the 300 hurdles, and was part of the 11th place 4×400 relay team;
Cardinal Mooney Catholic High School Senior Max Middleton took 2nd in the Class 2A discus and 8th in the javelin;
Bishop Verot Catholic High School Sophomore Geraldine Herrera took 2nd in the Class 2A 200 dash, and 11th in the 100.
Each of the three schools had athletes competing in multiple disciplines, representing their respective schools with speed, agility, determination and grace.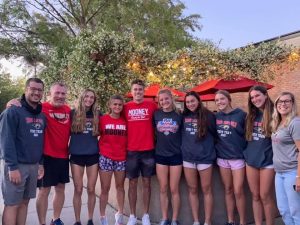 The Mooney girls 4×400 relay team set a new school record in a 10th place finish while Madeline Carson finished in 10th in the discus, leaving the meet as the top ranked sophomore in the state.
Double State Champ Leah Martin-Gonzales of Neumann took the 100 hurdles title in a time of 14.50, 0.28 seconds ahead of second place; and the long jump title with a jump of 5.72 meters (or 18 feet 9.25 inches), 10.5 inches farther than the next closest competitor.
Verot's Geraldine Harrera's second place run in the 200 was in a time of 24.55; Mooney's Max Middleton's had a second-place discus throw of 45.95 meters (150 feet 9 inches); while Neuman's Joshua Gulapa finished third in his 110 hurdles race in a time of 14.88.
Congratulations to the athletes. Well done!!!