As a spiritually engaging way to make the most of the newly proclaimed "Year of St. Joseph", all are encouraged to visit the many Diocesan locations named in honor of the Patron Saint of the Universal Catholic Church, families, fathers, expectant mothers, travelers and immigrants, among others.
Bradenton, Florida – Established October 1, 1927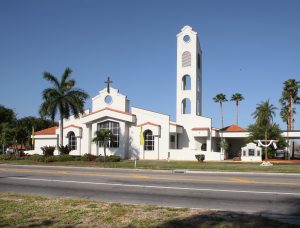 Following the 1860 establishment of Saint Louis Church in Tampa, many Catholic families in the mission area to the south were occasionally visited by the Tampa priests.
The earliest known Mass in the Manatee area was celebrated in May 1869 by Father H. Landry and Father J. B. Allard in the Manatee home of Mrs. Brady, a Protestant. Father Allard and Father Landry also baptized Mary Letitia Fogarty, infant daughter of Captain Tole Fogarty and Mary Ellen Fogarty in May 1869.  Mass was occasionally celebrated at the home of Captain Bartholomew Fogarty from 1868-1888 for the few Catholic families in an area later named Fogartyville.
In June 1884, Captain Fogarty donated 2.5 acres of land in Fogartyville to Bishop John Moore of Saint Augustine as the site for a Catholic church. Bishop Moore contributed to the fund to pay for a church building on the property along 1st Avenue and 31st Street West, and by July 1888, a chapel was completed. On July 18, 1888, the first Mass was celebrated for sixteen people by Father Henry Paul Clavreul, and the church was dedicated to the Sacred Heart.
Jesuit priests from Tampa continued to visit Sacred Heart over the next twenty-five years. A second mission chapel was built in 1915 on land donated by Mrs. Ada Hubbell, and on December 25, 1915, the first Mass was celebrated in the new Saint Joseph Chapel with fifteen families in attendance.
After 1915, the old Sacred Heart Church in Fogartyville was eventually sold as the congregation grew smaller. Sacred Heart was then combined with Saint Joseph, and Father Charles Elslander became Administrator. Saint Joseph Mission chapel was moved to 12th Avenue and 15th Street West in 1926, becoming a parish on October 1, 1927. Father Elslander was assigned to the parish temporarily, and by late 1927, Father Patrick J. Halligan was assigned as first Pastor.
By the 1950s, the small church, with 194 families, became inadequate as parish membership grew. Saint Joseph School was established in October 1954, and a new church near the school was completed in 1958. The old church on 12th Avenue eventually became Sacred Heart Parish in the late 1960s.
Bradenton, Florida – Established October 4, 1954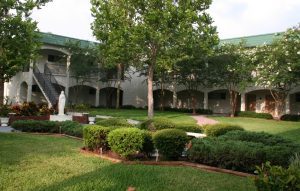 In October of 1954, construction of eight classrooms, and a convent, was completed for the new Saint Joseph School, and classes began immediately. The school consisted of forty-two children in grades 1-4 and was temporarily staffed by the Sisters of Saint Joseph. Within six weeks of the opening date, the Sisters of the Holy Name arrived to serve the parish and school. In 1955, the Sisters of the Holy Name added grades 5 and 6. The next year, grades 7 and 8 were added, bringing the enrollment to 358 students. A ninth grade was added in 1957, but was discontinued when Cardinal Mooney High School opened in 1959. Lay teachers joined the school staff in 1957.
A kindergarten class was added to the school in 1963, but, after two years, was discontinued in 1965. It was later reopened in 1978. In April 1963, construction was completed on a new administrative building and a two-story classroom building. In June 1976, the Sisters of the Holy Name left the school after twenty-two years of service. The Sisters of Saint Ann arrived in 1976 as the new Administrators of the school and remained until the spring of 1983.
Parent participation in school activities has been evident since the early years of operation. The Home and School Association, founded in 1958, has been extraordinarily active in providing financial support to St. Joseph School. The Advisory Board was formed in 1971 to provide administrative assistance in areas of financial and physical operations.
An early childhood program for four-year-olds was added in 1989. The newest additions to the campus include 7th and 8th grade classrooms, a conference room, a science lab, a library, and computer labs.
While remaining a parish school, because Saint Joseph School is the only Catholic school in Manatee County, it serves nine surrounding parishes.  The current principal is Deborah Suddarth.
Continuing to give witness to the values and teachings of Jesus Christ, St. Joseph School provides a curriculum and social environment structured according to the Pastoral message on Catholic education: "To Teach As Jesus Did: message, community, and service." The school includes grades Pre-Kindergarten through 8 and currently has an enrollment of 432 students.
Moore Haven, Florida – Established July 1961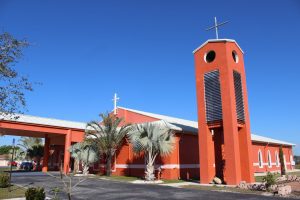 The history of Saint Joseph the Worker Parish began in 1960, when Monsignor Beerhalter was driving through Lakeport, Florida, and stopped at a local store owned by the Van De Velde family, where he met Margaret Van De Velde.  They soon became good friends and began discussing the possibilities of building a church and/or school. In March 1961, Margaret agreed to deed twenty acres of pastureland located near Highway 27 and State Route 78 for the new parish. On this land would be established the area's first Catholic parish, Saint Joseph the Worker.
Through a great deal of hard work on the part of the original five parish families, money was raised and a church completed. The new church was dedicated by Archbishop Coleman Carroll of Miami in July 1961. Many visiting priests would continue to serve the area until 1982. Father Bill Romero became the first resident Pastor in 1982 and served the parish until September 1991.
Father Emilian Swiatecki became Pastor in November 1991. The church was already thirty years old, and his new home was a tiny trailer that rattled and shook when trucks passed the church property. Father Swiatecki was responsible for many additions to the church property, including new classrooms for CCD classes and meetings, a back patio for the church, and the beautiful grotto to honor the Blessed Virgin Mary. A new rectory was also built under his guidance and was blessed on June 24, 1996. The new rectory also served as a small chapel for daily Mass, as offices, and as a conference room.
Father Swiatecki was instrumental in gathering the funds for a much needed new church to accommodate the growing congregation and to provide space for religious instruction classrooms. On December 24, 1999, the parishioners of Saint Joseph the Worker Parish celebrated the first Mass, and the new church was later dedicated on February 20, 2000, by Bishop John J. Nevins.
Father Marcial Garcia is the current pastor of the Parish.
San Jose Mission
Fort Myers, Florida  – Established 1968

Mision de San Jose (San Jose Mission) was originally founded in 1968 as a mission church of Saint Vincent de Paul Parish in Fort Myers to care for the spiritual and material needs of predominantly immigrant Catholics in the area.
Priests from the Archdiocese of Miami and later the Diocese of Saint Petersburg came to help staff the mission, which originally was named Lourdes Mission. The founders of the mission were priests from Spain, including Father Esteban Soy, Father Nicanor Lobato, Father Antonio Diez, who came to offer their help and who stayed for as long as three years at a time.
San Jose Mission continues as a small but tight knit community in Fort Myers that welcomes all who enter. It is now a mission of Jesus the Worker Parish and is administered by Father Patrick O'Connor, O.S.F.S.
Lake Placid – Established 1996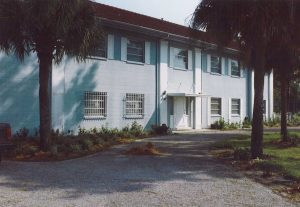 Located in the Eastern Deanery of the Diocese of Venice, Campo San Jose was established as a retreat center in 1996. Father Jose Gonzalez, director of the retreat center, opened the Diocesan facility in what was once a house for retired priests from Puerto Rico. The center focuses on Hispanic Outreach and includes an on-site chapel, dining hall, large gathering room with multi-media equipment for presentations, and a spacious conference room for social activities.