Buoyed by the success of online daily and Sunday Mass, and while there is no physical location to attend a religious education class, several Parishes across the Diocese have turned to online courses.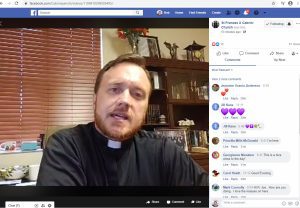 These courses offer a broad opportunity for the faithful to continue to grow closer to the Lord through the shared experience of learning.
For example, Dr. David Glasow, of Our Lady of Lourdes Parish and Theology teacher at Cardinal Mooney Catholic High School in Sarasota, used Facebook Live to provide six nights of commentary for the online Bible study program "Genesis to Jesus" from the St. Paul Center for Biblical Theology.
Meanwhile, Father Shawn Monahan, Oblate of the Virgin Mary, and Parochial Vicar at Epiphany Cathedral, lead a three-part series called "Rejoice in the Resurrection – How we can live more the Risen Life Jesus invites us to live." The sessions, also available on Facebook, followed the Divine Mercy Chaplet from the Cathedral Adoration Chapel in Venice.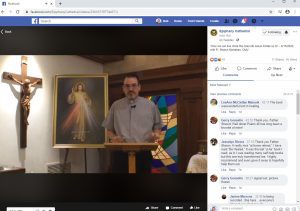 At Our Lady Queen of Martyrs Parish in Sarasota, Parochial Vicar, Third Order Franciscan Father Timothy Harris, leads a regular online reflection, as does Father Joseph Gates, Administrator at St. Frances Xavier Cabrini Parish in Parrish.
These are just a few of the examples of how Parishes and priests are working to stay connected with the Faithful. To find these, and more, online presentations, either visit your parish website, or go to the associated Facebook pages. Most of the talks will remain online indefinitely.