Catholic schools in the Diocese of Venice honored those in the military (active and retired) in a variety of ways to commemorate Veterans Day.
A Veterans Day tradition at St. Elizabeth Seton Catholic School in Naples continued, with a Mass and reception on Nov. 8, 2023. The Mass was celebrated by Father Alejandro Giraldo-Roldan, the Parochial Vicar, and all students participated by processing in with handmade patriotic artwork.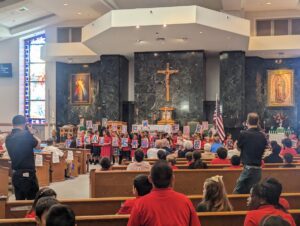 The Seton tribute to veterans was led by eighth graders and included a salute to branches of the military, a flag folding ceremony, presentation of bravery pins, and remembrance of veterans not present. The first graders displayed handmade letters spelling out the profound truth that "We are the Land of the Free Because of the Brave!" The second graders closed out the program by singing "God Bless America." A reception followed in the Parish Center.
At St. Joseph Catholic School in Bradenton, students and faculty gathered on Nov. 10 in the courtyard to recognize those who have served our country. The school community joined in, listening to patriotic songs and watching as fourth graders processed with flags to represent the branches of the military. Everyone then reflected on how grateful they are for those who have fought for our freedoms and the individuals who continue to serve. The assembly concluded with the Pledge of Allegiance, prayer, and a parade with the pre-kindergarten-4 students.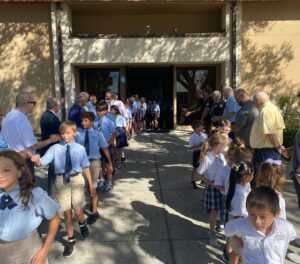 Tradition at Incarnation Catholic School in Sarasota continued with a formal ceremony which included the reciting of poems, and the singing of patriotic songs in thanks to all veterans for their service. In addition, the Knights of Columbus led a formal flag raising ceremony.
Bishop Verot Catholic High School in Fort Myers held a school assembly with speakers and a presentation by the American Legion Honor Guard.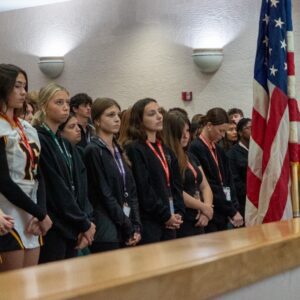 St. Andrew Catholic School in Cape Coral had a school Mass honoring veterans and then afterwards the veterans lined up and greeted each student with a fist bump as they returned to class.
St. Martha Catholic School and St. Mary Academy in Sarasota joined together for a Veterans Day program that included a parade. In addition, the second graders in Mrs. Ravazzoli's class wrote thank you cards to a friend who is one of 5,000 sailors currently serving on the USS Eisenhower, an aircraft carrier now stationed in the Gulf of Oman. Included in the care package are pictures, cards, and a snack basket.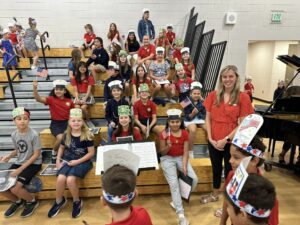 These were just a few examples of how Diocesan Catholic schools honored the service and sacrifice of those in the military.
Veterans Day began as an informal celebration to mark the conclusion of World War I (Nov. 11, 1918), before being designated as a national holiday in 1954 to honor all military men and women who have sacrificed so much in their service to this country.