Three down, eight to go. One quarter of the way through a series of Listening Sessions for the Diocesan Phase of "For a Synodal Church: Communion, Participation, and Mission," and a clear trend is developing – there is great passion for securing a bright future for the Universal Church.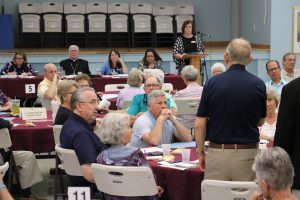 Some 115 people participated on Feb. 16, 2022, at Epiphany Cathedral in Venice, and then another 100 participated on Feb. 22 at Ss. Peter and Paul the Apostles Parish in Bradenton. The Bradenton Listening Session was offered in both English and Spanish.
The format of the Listening Sessions includes an opening prayer and remarks from Bishop Frank J. Dewane. The Sessions transition into group table discussions focusing on some of the key questions posed by the Synod.
Diocesan Listening Sessions are 90 minutes in duration because it is at the end of long workday for many. Each Session concentrates on five of the 10 total Synod themes and related questions. This is being done to allow each table time to compile their thoughts and share their findings in response to the questions. Even with that focus, the lively table discussions are periodically unable to answer all five questions in the time allotted. The questions being considered during each Listening Session, which were proposed in the Vatican Synod document, are being rotated to allow for a balanced reflection by the faithful during the Diocesan Phase in preparation for the Synod. When there is time available at the end, individuals can add their comments beyond the table presentation. Participants are also able to share additional comments privately through an evaluation form.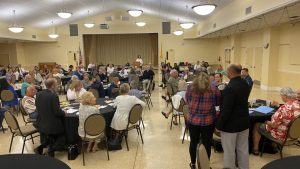 The second main theme which is under consideration is "Listening." This theme is described by the Synod as follows: "The synodal process necessitates that we, as the People of God, first listen with an open heart and open mind to where the Spirit is calling us and discern to whom we are needing to listen and what steps need to be take to more fully live out our mission."
Bishop Dewane has stressed during each Session how important it is to respond to the Synod, and the questions posed, in the context of what the Holy Spirit is asking of us, and can only be accomplished with an open heart, mind and soul.
Each session is being recorded to allow for proper documentation. The information gathered at the Diocesan Listening Sessions will be synthesized into a document which will be shared with the U.S. Conference of Catholic Bishops, and ultimately the Vatican. Similar Listening Sessions are to be held across the globe.
To allow for the most participants, participants are encouraged to only attend ONE Listening Session. Locations for the Session were selected based on geography and population to cover as much of the Diocese as possible. Eight additional in-person Listening Sessions will take place through May and will include a virtual session on a later date which will be announced soon.
For Synod details, please visit www.dioceseofvenice.org or email synod@dioceseofvenice.org.
A prayer and complete list of all Diocesan Listening Sessions is below
Prayer for the Synod: Adsumus Sancte Spiritus (We stand before You, Holy Spirit)
We stand before You, Holy Spirit, as we gather together in Your name.
With You alone to guide us, make Yourself at home in our hearts; Teach us the way we must go and how we are to pursue it.
We are weak and sinful; do not let us promote disorder. Do not let ignorance lead us down the wrong path nor partiality influence our actions.
Let us find in You our unity so that we may journey together to eternal life
and not stray from the way of truth and what is right.
All this we ask of You, who are at work in every place and time,
in the communion of the Father and the Son, forever and ever.
Amen.
Listing of 11 Diocese of Venice Listening Sessions
(Completed) Wednesday, Feb. 9, St. Thomas More Parish, 2506 Gulf Gate Drive, Sarasota (Eng.);
(Completed) Wednesday, Feb. 16, Epiphany Cathedral, 350 Tampa Ave. W. Venice (Eng./Sp.);
(Completed) Tuesday, Feb. 22, Ss. Peter and Paul the Apostles Parish, 2850 75th St. W., Bradenton (Eng./Sp.);
Thursday, March 3, St. Andrew Parish, 2628 Del Prado Blvd., Cape Coral (Eng./Sp.);
Monday, March 14, St. John XXIII Parish, 13060 Palomino Lane, Fort Myers (Eng.);
Wednesday, March 16, Sacred Heart Parish, 211 W. Charlotte Ave., Punta Gorda (Eng.);
Thursday, March 24; St. Elizabeth Seton Parish, 5225, Golden Gate Parkway (Eng./Sp.).
Monday, March 28, St. John the Evangelist Parish, 625 111th Ave. N., Naples (Eng.);
Monday, May 9, St. Catherine Parish, 820 Hickory St., Sebring (Eng./Sp);
Monday, May 16, St. Agnes Parish, 7775 Vanderbilt Beach Road, Naples (Eng.);
Monday, May 23, Our Lady Queen of Heaven Parish, 355 S. Bridge St., LaBelle (Eng./Sp).
To allow for the most participants, please register for only one Listening Session at https://dioceseofvenice.regfox.com/2022-synod-listening-sessions. A virtual Listening Session is in the planning stages and will be announced soon. Email synod@dioceseofvenice.org for any questions or comments regarding the Listening Sessions.