More than 300 couples celebrating 25, 30, 35, 40, 45, 50 and 50+ years of marriage were recognized and honored by Bishop Frank J. Dewane during a Mass Feb. 19, 2022, at Epiphany Cathedral in Venice, the second of two such Masses within the Diocese of Venice.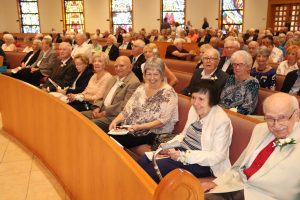 The combined years married for the couples present in Venice was well over 15,756, with 57 couples present celebrating their 50th anniversary this year, and five couples each celebrating 70 or more years.
Bishop Dewane called it a beautiful sight when he looked out upon so many couples who give a fantastic witness of their sacramental commitment.
"All of you represent love, joy and commitment to each other in a sacramental way, as a sign of hope," Bishop Dewane said. "You were called to make a sacrifice, to live out the sacramental commitment, the important vocation that contributes greatly to the Church and to society as a whole. You are an example to others, not just to your children and grandchildren but to society that looks to you for guidance, inspiration and hope."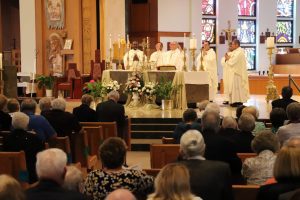 The longest couple married present in Venice were Donald and Nonna Rassier of Epiphany Cathedral, who will be celebrating 74 years together on Oct. 2, 2022. Four additional couples, celebrating 70 or more years, were present for the Mass including: Carl and Natalie Pensak, Raymond and Gayle Bickowski, both 70 years; Thomas and Dolores Martorana, 71 years, and Leon and Ann Reser, 73 years.
The first Anniversary Mass was held Feb. 12, at St. Leo the Great Parish in Bonita Springs and included 180 couples. The couples present for the two Masses combined for a staggering 24,570 years of marriage. The Anniversary Mass is held in two locations each year to accommodate the large and growing number of participating couples and in recognition of the difficulty for some couples to travel great distances.