Diocese of Venice Statement regarding the recent Supreme Court Decision, Dobbs vs. Jackson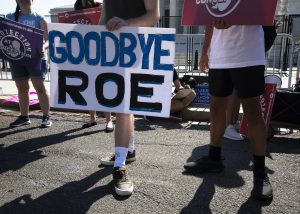 Venice, FL, June 24, 2022 — In God's eyes, all human life is sacred, from conception to natural death; this is the teaching of the Catholic Church. The Church is pleased to hear of the Supreme Court decision in Dobbs v. Jackson. This ruling now undoes the grave injustice of 1973, when Roe v. Wade decided that an entire class of human beings, the preborn, were outside the protection of the law. Now the states will once again have the opportunity to protect the lives of preborn children and in doing so, also protect millions of women from the tragic consequences of abortion. Of course, legal protection must be accompanied by more care for mothers and their children. The Catholic Church, and the Diocese of Venice, stand ready to help mothers in need. Pregnant women are not alone.
Pope Francis has called upon all Parishes to be "islands of mercy in a sea of indifference." Parishes in the Diocese of Venice have redoubled their efforts to accompany women and couples who are facing unexpected or difficult pregnancies, offering them loving and compassionate care.
Specifically, Walking with Moms in Need is a new program. The Diocese of Venice helps parishioners connect with local mothers facing difficult or challenging pregnancies. The program helps parishioners to identify local resources so that pregnant and parenting women receive the material, spiritual, and emotional support they need. Within the Diocese of Venice, there are Pregnancy Help Centers in 22 locations, and nine residential maternity and after-birth homes.
For decades, the Diocese of Venice has supported mothers in need and continues to do so. Our Mother's House of Catholic Charities in Venice is one of the programs in the Diocese that supports single mothers and their children, providing not just housing and material needs, but valuable counseling and education.
Additionally, the Diocese offers confidential, compassionate support after abortion to both women and men through its Project Rachel Ministry.
Let us all continue to pray for the end to abortion, and the end to taking the lives of an entire category of human beings, the preborn.
Media can contact Diocese of Venice Communications Director Karen Barry Schwarz at: Office: 941-441-1118 Mobile: 941-275-5183
Go
here
to read the statement from the U.S. Conference of Catholic Bishops, available in both English and Spanish.
Go
here
to read a statement from the Florida Conference of Catholic Bishops.
PHOTO CREDIT: Catholic News Service