Appointments
After consultation, Bishop Frank J. Dewane announces the following:
Father Joseph Clifford, has taken an assignment in the Diocese of Lansing, as Chaplain of St. Joseph Hospital, Ann Arbor, MI, effective February 2, 2022.
Father Piotr Paciorek, retired as Parochial Vicar of Ave Maria Parish, effective May 31, 2022, and thus, is relieved of his duties as Parochial Vicar of Ave Maria Parish.
Father Chester Domaszewicz, retired as Pastor of St. Bernard Parish, effective June 1, 2022, and thus, is relieved of his duties as Pastor of St. Bernard Parish.
Msgr. Patrick Dubois, has been appointed as Vicar Forane of the Northern Deanery, effective June 17, 2022.
Ordination to the Priesthood July 16
Most Rev. Frank J. Dewane, Bishop of the Diocese of Venice, invites the faithful to the Ordination to the Priesthood of Transitional Deacons Christian Chami, David Portorreal, and Michael Young. The Ordination will take place at 11 a.m., on Saturday, July 16, 2022, at Epiphany Cathedral, 350 Tampa Ave. W., Venice. All are welcome and encouraged to attend this important event in the lives of the Deacons as well as the Diocese of Venice. The event will be livestreamed via the Epiphany Cathedral Facebook page (https://www.facebook.com/EpiphanyCathedral – you do not need to be a subscriber to view the ordination.) A reception will follow in the Parish Hall.
Where is Totus Tuus this Week?
Totus Tuus (a Latin phrase meaning "totally yours") is a summer Catholic youth camp program dedicated to sharing the Gospel and promoting the Catholic faith through evangelization, catechesis, Christian witness and Eucharistic worship. During the week of June 20-24, 2022, the team was at Our Lady Queen of Heaven Parish in LaBelle. The weeklong Parish summer catechetical camp program assists parents and parishes in evangelizing and catechizing the youth by complementing the work they are already doing at the parish and at home. This summer the program is offered at eight parishes in the Diocese of Venice with two sessions now completed. The camp program takes place for grades 1-5, Monday – Friday from 9:00 a.m. to 3:00 p.m., and for grades 6-12, Monday – Thursday from 7:30 p.m.to 9:45 p.m. Several parishes still have openings for this program. Please contact the Director of Religious Education at the parish hosting the program or Anne Chrzan at chrzan@dioceseofvenice.org. The remaining Parishes hosting the program are as follows:
St. Catherine Parish, 820 Hickory Street, Sebring, June 27-July 1.
St. John XXIII Parish, 13060 Palomino Lane, Fort Myers, July 11-15.
St. Joseph Parish, 3100 26th Street West, Bradenton, July 18-22.
St. Elizabeth Seton Parish, 5225 Golden Gate Parkway, Naples, July 25-29.
St. Patrick Parish, 7900 Bee Ridge Road, Sarasota, August 1-5.
Feast of Our Lady of Perpetual Help June 27
All are welcome to attend the celebration of the Holy Sacrifice of the Mass at 11:15 a.m., Monday, June 27 in the St. Joseph Chapel on the grounds of Our Lady of Perpetual Help Retreat Center, 3989 S. Moon Drive, Venice to celebrate the Feast of Our Lady of Perpetual Help. In preparation, you are invited to pray a novena starting Saturday, June 18. The daily prayers are published on the website at www.olph-retreat.org. The Fall 3-night, 5-night, and 7-night private, directed retreat schedule is also published on the website. To learn more about a private retreat and to register, please visit www.olph-retreat.org or call 941-486-0233.
Independence Day Bike and Golf Cart Parade
The Knights of Columbus Ave Maria Assembly 3862 is hosting the 6th annual "God Bless America" Independence Day Bike and Golf Cart Parade, at 10 a.m., Monday, July 4, 2022. The ceremony starts in the Piazza of the town and will include a reflection from an Ave Maria veteran on the "Blessing of Freedom," then patriotic songs, prayers for our country, then a "Blessing of the Bikes." The parade, which will include bikes, trikes, golf carts, skateboards, strollers (decorated or not), will be led by a fire truck and pass through several neighborhoods, ending approximately 2 miles later back in the Piazza where there will be treats available. All are welcome. For more information, contact Dominick Micillo at 904-536-1480.
Mooney grad takes Junior golf title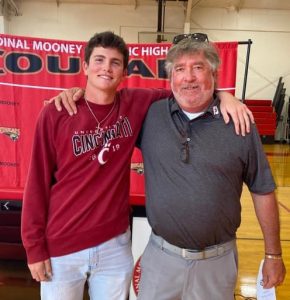 Wyatt Plattner, a recent graduate of Cardinal Mooney Catholic High School in Sarasota, won the 50th Southern Junior Championship at the Country Club of Charleston, South Carolina, on June 17, 2022. To take the title, Plattner notched four birdies on the back nine holes to post a final-round 67, earning a three-shot win in the 54-hole event at 9-under-par 201. The Mooney grad will play at the college level at the University of Cincinnati beginning this fall.
Volunteers needed in Naples
The Society of St. Vincent de Paul in Naples is looking for thrift store volunteers. If you would like to offer your time as a cashier, sorter, receiver or customer assistance representative for SVdP Naples, call Samantha at 239-775-2907 ext. 1014 or email info@svdpnaples.org.
Youth Conference July 8-10
The 14th annual Ave Maria University Youth Conference – "Fearless" – is being held July 8 to10, 2022. Featured talks are by Father Rick Martignetti, Father Joseph Lugalambi, Father Rich Pagano and Chris Padget. The event includes the talks, Mass, Adoration, praise and worship, fellowship, and opportunities for confession. The cost is $175 and includes lodging, all meals, a t-shirt and more. To register, call 239-348-4725, aveconferences@gmail.com or www.aveconferences.com.
Adoption services available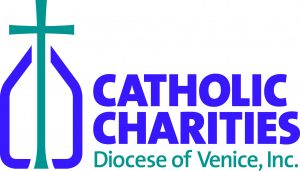 Catholic Charities Adoption Services is a state-wide agency that provides counseling to birth parents, and provisions or resources to meet the needs of birth parents considering adoption planning. If you or a loved one would like to learn more, please call Joan Pierse at 941-355-4680.
Men's Support after Abortion Program
One in 4 women will have experienced at least one abortion by age 45. A man is connected to every pregnancy and abortion. Men are hurting from their abortion experiences too. Men often push down their experience or cover it up with unhealthy behaviors. For six weeks beginning on Saturday, July 9, 2022, from 9:30 to 10:30 a.m. at St. John the Evangelist Parish in Naples, Father Mark Harris will team up with Nathan Misirian from Support After Abortion to co-facilitate a program just for men wounded, angry or hurt by abortion. If you (or someone you know) are a man ready for healing, or you know someone who is, confidentially call 941-412-5860 today or email project.rachel@dioceseofvenice.org to register for this series.
Volunteer to Help Pregnant Mothers
Looking for a way to help pregnant women in need?  Your tax-deductible donation will help with rent, utilities, or other necessities.  Give to the Catholic Charities Pennies for Babies Fund, 1000 Pinebrook Road, Venice, FL 34285 where no administrative fees are taken from any donations. Questions?  Contact Jeanne Berdeaux, Berdeaux@dioceseofvenice.org or 941-374-1068.