People of faith gathered together in prayer before, during and in the wake of Hurricane Ian on Sept. 28, 2022, which devastated a large swath of the Diocese of Venice, leaving a trail of misery and destruction from wind, storm surge and flooding.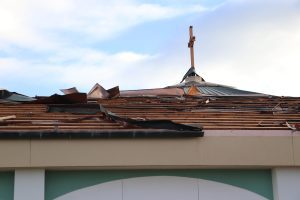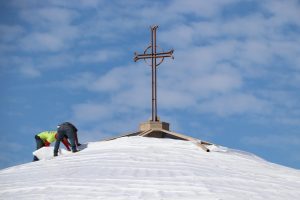 What Ian did not do is to diminish the faith of people, even those who lost everything, as many lives were lost, and untold numbers of homes and businesses destroyed.
While the destruction from Hurricane Ian is overwhelming, the people of faith are rallying to come to the aid of their brothers and sisters in Christ in ways small and large from donating food and money to relief efforts, or offering a hug, a shoulder to cry on, a kind word, or a prayer.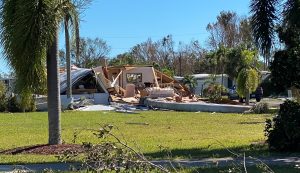 In the wake of the storm's passage, the response to Ian from Diocesan officials has been swift and unrelenting with teams assessing damage and organizing relief efforts spearheaded by Catholic Charities, Diocese of Venice, Inc. The result has been nothing short of amazing as damage is being mitigated or even repaired, while distribution points for disaster relief (water and food) have been set up in five counties.
Hurricane Ian made landfall on the coast of the Diocese in Lee County, with maximum sustained winds of 155 mph. The hurricane brought massive storm surge to Fort Myers Beach, Sanibel and Pine Island as well as to Fort Myers, Bonita Springs and Naples. As the storm barreled through the Diocese, the winds continued to cause damage but unrelenting rains caused catastrophic freshwater flooding in North Port, Arcadia, Wauchula, and Venice.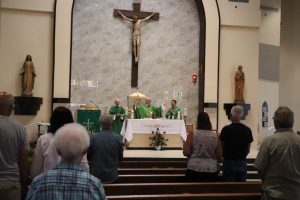 Parishes in the far northern and eastern parts of the Diocese were overall spared the most serve parts of Ian's wrath and were able to resume normal schedules quickly while other Parishes were opened to the faithful to pray on a limited basis when it was safe. Still others have not yet reopened.
At the forefront of this massive Diocesan effort has been Bishop Frank J. Dewane, who has been in contact with priests and religious since the storm to ensure each was first accounted for and then in a place of safety. Damage has been done to numerous Parish buildings, including churches and Catholic schools. In the wake of the storm, Bishop Dewane has been responding to calls for assistance to help mitigate damage and assisting those in greatest need. While going out to survey the damage in person, Bishop Dewane offered words of prayer and comfort to those who lost everything.
Bishop Dewane celebrated Mass Saturday, Oct. 1 in the Parish Hall at Incarnation Parish in Sarasota because of roof damage to the church. Then on Sunday, Oct. 2, the Bishop celebrated Mass at San Pedro Parish in Nort Port, a city which initially suffered catastrophic wind damage before unrelenting flooding followed, inundating large swaths of the city with 10 feet of water and forcing many families to flee their homes.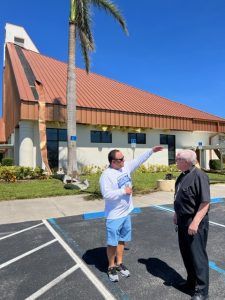 "The area suffered a great deal because of Ian, and a lot of people are much worse off than others, but still, we gather together in prayer to ask God's blessing; that He place His healing hand upon all who suffer as a result of Hurricane Ian," Bishop Dewane said during the opening of Mass at San Pedro.
San Pedro is also the location of one of several Catholic Charities Points of Distribution (POD). Starting on Saturday, Oct. 1, the Parish emptied its food pantry to help some 400 families. Then the Florida National Guard arrived with trucks full of food (meals ready to eat), water and perhaps most preciously, ice.
Father Tom Carzon, Oblate of the Virgin Mary, is Pastor at San Pedro and greeted people in vehicles as they made their way through a line around the parking lot before getting loaded with supplies. Father Carzon greeted everyone with a wave and a smile and offered his prayers and blessings as he heard story after story of destruction and misery.
"Each person experienced Ian in a different way and my compassion goes out to everyone as the suffering is fresh, and it is ongoing," Father Carzon said. "The beautiful part of this is that we are seeing the good in many. On Saturday we had people arriving seeking help, so we opened our food pantry and emptied it out. Then others came and dropped off their hurricane supplies because they got through Ian okay. It is so heartening to see the good in people during times of despair."
John Garvey, who lives a short distance from the Parish, lost his roof and vehicle to Ian, walked to the distribution point to find water and ice. "It was awful. We were doing okay through most of the storm, then – CRACK! – a section of the roof was gone. I hid my wife and children under the mattresses, and then we prayed as the rain kept coming. We thank God we are alive."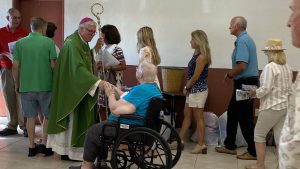 Garvey and his family escaped the storm a bit dazed and with a few minor scrapes and bruises. While devastated by the destruction of his home, he was amazed when several good Samaritans came by and put a tarp on his roof and helped clean out the house of broken furniture. "We are blessed. We are alive. I can't ask for more."
While the storm struck the area on Sept. 28-29, the assessment of the damages to Diocesan buildings is ongoing as accessibility and the widespread nature of the destruction make a complete assessment difficult. To date, this work is not possible on Fort Myers Beach, Sanibel, and Pine Island where access is restricted to rescue personnel after massive storm surge overwhelmed the islands.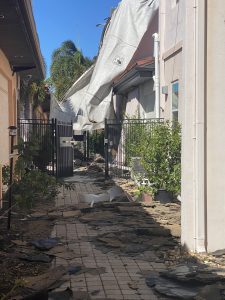 Meanwhile, work crews are arriving daily at Parishes and Schools to help mitigate any further damage and make estimates on what work needs to be done to get churches and other facilities repaired as quickly as possible. Diocesan teams are already working to temporarily fix roofs by clearing debris and sealing them while also airing out interiors of structures that had water intrusion.
Father John Belmonte, SJ, Diocesan Superintendent of Catholic Education, has also been visiting schools and accessing damage while inquiring about the teachers, faculty, and families.
"Our school buildings, for the most part, did not suffer major damage, but many of our families and many of our teachers have suffered extensive losses," Father Belmonte said. "Our schools in areas that were undamaged have responded generously to the needs and challenges of other schools and school families and teachers."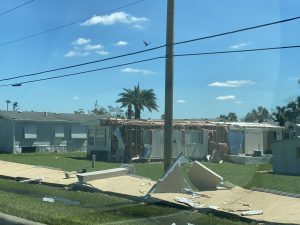 The most serious damage was at Epiphany Cathedral Catholic School in Venice, with one section of roof torn off with ensuing water damage to first and second floor classrooms. Other damage at schools included leaky roofs and walls, damaged fencing and other impacts from winds and debris. While all 15 schools closed ahead of Ian, by Oct. 5, six had reopened with Father Belmonte expecting more to open soon.
In a message to the Diocese in the wake of Hurricane Ian, Bishop Dewane stated: "During these challenging times, let us continue to offer prayers for those affected by the hurricane, and for all who have come to their assistance. Let us pray for the souls of those who sadly have lost their lives and for the consolation of their families. Please know you remain in my prayers and may Our Lady of Mercy continue to intercede on our behalf. May God bless you all."