Anne Patterson is proud of her fellow graduates at the Donahue Catholic Academy of Ave Maria for turning to Jesus and the Blessed Mother as they completed their education during trying times.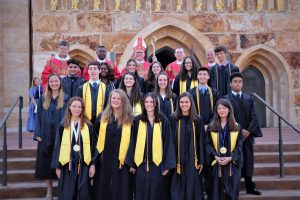 Graduation for the Class of 2021 took place May 27, 2021 and included a Baccalaureate Mass in the Ave Maria Parish Church, followed shortly afterwards by the Commencement Exercises at the school less than a mile away.
Bishop Frank J. Dewane celebrated the Mass for the graduates and remarked how the challenges faced by the Class of 2021 during a Pandemic have taught them to value what is important: their family; their friends; their school; and most importantly, their relationship with the Lord.
The Bishop stressed that through their Catholic education they have been given a great gift of Faith, a call for a personal relationship with Jesus Christ. With that gift comes great responsibility, to grow the gift of Faith and continue to build upon their relationship with Christ.
"Never underestimate yourself, particularly in your relationship with the Lord," Bishop Dewane continued. "Do the good things; stand up; speak out; let the world know who you are… Have the confidence you need in yourself. Hear that call of the Lord and follow it wherever it leads."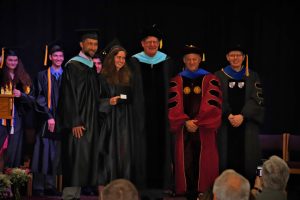 The Donahue class included 17 graduates. Seated behind them at the Mass were family and friends. Across the aisle were the students of Donahue Catholic Academy who were present to share in their final Mass together.
The opening procession was led by Principal Dr. Dan Guernsey, playing bagpipes, and he was followed by the Class of 2021. Each student carried a single white rose which was placed in a vase before a statue of the Blessed Virgin Mary at the front of the altar.
Bishop Dewane thanked the parents for selecting to send their child to a Catholic school. The Bishop appreciated the sacrifice, as well as the confidence each family had in entrusting their child's education to the care of a Diocesan Catholic School. Following the Mass, the Bishop took photos with the graduates on the steps of the Parish church.
The celebration continued at the nearby school. This was the first time the Commencement Exercises took place outside of the Parish church. Guernsey explained that it was a more appropriate location as the graduation atmosphere is more raucous.
The Commencement included prayers led by Father John Belmonte, SJ, Diocese Superintendent of Catholic Education and Father David Vidal, Pastor of Ave Maria Parish.
Valedictorian Anne Patterson said that the education provided the Class of 2021, anchored in Faith, instilled the group with invaluable gifts, creating a strong foundation upon which to go forth and succeed. "We are one big spiritual family. This family goes beyond the high school – this sense of unity and family make me sorry for leaving. I know that because of what has happened within these walls, the Class of 2021 and I have the tools to persevere beyond Donahue Academy."
Patterson concluded her remarks with words of advice to the school and to her fellow graduates. "Pray to Jesus and stay close to His mother, the Blessed Virgin Mary; they will get us through (any obstacle) in the best and most beautiful way."