10/3/17
Bob Reddy – Florida Catholic
Wearing play "hard hats" and showing a resilience that reflects their age, the students of St. Elizabeth Seton Catholic School in Naples returned to their battered school on Oct. 2 with smiles and an enthusiasm that was inspiring.
Students at St. Elizabeth Seton Catholic School in Naples pray on Oct. 2, their first day back to school following the devastating impacts of Hurricane Irma which did extensive damage to the school.
With their parents in tow, the students started arriving at the school more than three weeks after they were last there, greeted by Principal Maria Niebuhr and the teachers.
"We have a brand new beginning," Niebuhr said during the resumption of morning prayer service in the school courtyard which has signs of damage and repair. "We are a work in progress and we are Seton Strong! We are most grateful for God's Mercy."
In the courtyard are two statues of St. Elizabeth Seton, one by herself, another surrounded by children reflecting the saint which developed the Catholic school system in the U.S. That the school is open at all is a blessing, Niebuhr explained. She credits Bishop Frank J. Dewane, Diocese Superintendent of Schools Dr. Kristy Swol, and Seton Parish Administrator Father Russell Ruggiero with responding to the immediate needs of the school community and her dedicated staff, the supportive parents, and the busy contractors for making the first day back a reality.
It was on Sept. 10 when Hurricane Irma tore at the heart of Southwest Florida with ferocious winds and flooding rains, but the recovery is well underway. While the damage was extensive, Bishop Dewane has remarked how blessed the Diocese was in comparison to the flooding of Hurricane Harvey in Texas and the destruction Irma and Hurricane Maria wrought on the Caribbean.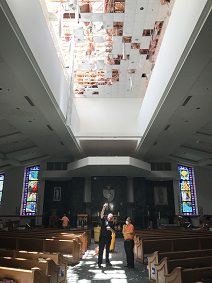 Bishop Frank J. Dewane surveys the damage to St. Elizabeth Seton Church in Naples following Hurricane Irma. A large section of the roof was blown off causing debris and insulation to come into the church.
"I am keeping everyone in my prayers," Bishop Dewane said. "We saw with what happened with Hurricane Maria about how much worse things could have been. Here in the Diocese many have suffered and many are still trying to rebuild. We must continue pray for them all and do all we can to provide the support they need. Christ does not ask of us anything we cannot do. Find comfort in this knowledge and continue to pray as the recovery continues."
The most serious damage in the region was focused in Collier County, with Golden Gate and East Naples seeing the brunt of the damage. This does not mean other areas were not spared the wrath of Irma, in fact the damage spread out leaving no part of the 10-county Diocese unscathed. Many businesses have suffered leaving many without income for extended periods of time.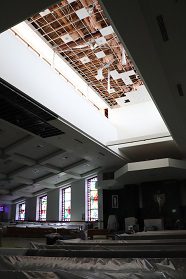 A temporary roof and other mitigation including water removal and covering of pews, has been done to St. Elizabeth Seton Parish Church in Naples since Hurricane Irma struck on Sept. 10.
In the three-plus weeks since the Category 4 storm crossed the coast on Marco Island, the Diocese of Venice, led by Bishop Dewane and his senior staff, have been working non-stop to address the damage wrought since the Sept. 10 arrival of Irma.
This work has included visiting properties to assess damage and then bringing in mitigation workers to prevent further problems. Insurance claims have been filed and contractors are being contacted to get work completed as quickly as possible. Of utmost importance has been the health and safety of all people, meaning buildings will not be reoccupied until they are safe.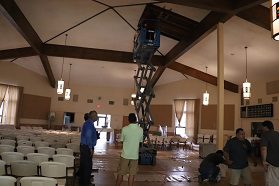 Work is being done Sept. 21 on the ceiling of the St. Elizabeth Seton Parish Hall in Naples which was damaged during Hurricane Irma.
In some cases, rebuilding is already taking place. At St. Elizabeth Seton Parish, a section of the Church roof was blown off but has already been replaced. However, interior water damage was extensive and those repairs will take months.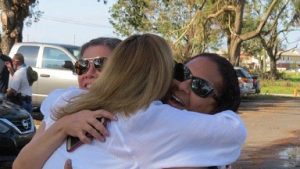 Catholic Charities volunteers at the Galeana Center in Fort Myers are hugged while assisting with Hurricane Irma relief.
At St. Ann Parish, the cupola was damaged but has already been fixed. The elementary school building has a great deal of water, but the school reopened on Sept. 25 with a reorganization of classrooms into the middle school building.
To accommodate lost days, Dr. Swol said each Diocesan Catholic School has taken measures to adjust schedules moving forward as they make up for time lost due to the hurricane. Some schools were closed as few as seven days, while others were closed 12 or more. Examples of measures being taken, include giving up pre-scheduled half-days or professional development days, or daily adding 30 minutes of class time.
"Each school is in a different situation," Dr. Swol added. "However, all schools will complete their academic year as planned and no student will be left behind."
At the parish-level, those impacted the most, either through damage, power loss or hurricane recovery, are reassessing religious education classes that need to be rescheduled or adjusted to ensure everyone receives the proper formation.