Who's Making it Happen
Susan Laielli – Florida Catholic
For much of his career as a general surgeon in Chicago, Ill. and a small Kansas town, Dr. Fernando Ugarte admits he didn't make too much time for Church outside of Sunday Mass. That changed dramatically since his retirement three years ago with a move to Southwest Florida, and an influx of time and talent.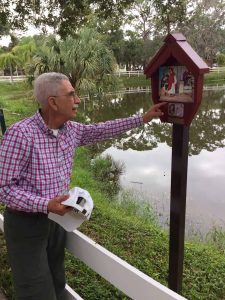 It seems Ugarte now makes himself available for Parishes in the Sarasota area which may need something.  Whether as a Eucharistic Minister with Our Lady of the Angels Parish in Lakewood Ranch, or through the lens of his camera as a photographer for special projects with St. Jude Parish in Sarasota or the photography club with Our Lady of Carmel Parish in Osprey, Ugarte is ready to help.
"Photography makes me realize the beauty of the world and the loveliness of the things that are around us," said Ugarte, a Peruvian born Catholic. "I discovered through the lens of my camera I can see things that other people don't notice."
Parishioners of St. Jude Parish may have spotted Ugarte's work through the refurbishment of the Parish's outdoor Stations of the Cross, which appeared rundown next to the new walkway surrounding a serene lake filled with beautiful birds.
"This is one of those little miracles for me, that I still find shocking," Ugarte explained.
When he was seven-years-old and attended Jesus Hostia Parish in Lima, Peru, Ugarte grew up admiring the Stations of the Cross in his hometown Church. Now, 70 years later, he would photograph each Station, with a plan of creating permanent metal images for the Parish, which are better designed for outdoor wear and tear.
Mistakenly, the manufacturer sent the wrong size pictures, which were too small. How disappointing, he thought, to know the beautiful Stations of the Cross might go to waste. That was until he happened to be at St. Jude Parish and noticed that their Stations of the Cross needed an upgrade.
"I went right home with the measurements, and what do you know, the pictures of the Lima Stations that I received in the wrong size, fit perfectly in the little frames at St. Jude," he laughs. "What are the chances of that!"
Parishioners can see the colorful metal Stations of the Cross currently on display at St. Jude Parish, but mostly Ugarte can be seen during Sunday Mass at Our Lady of the Angels Parish, where he only trained to be a Eucharistic Minister three years ago.
"Oh, I was extremely nervous, I was shaking like a leaf the first time I gave Communion to people, thinking that I was going to do a bad job," Ugarte recalls.
This, from a man who spent his entire 52-year career as a successful surgeon operating on people.
"Well, I soon discovered how important it was to be a Eucharistic Minister," Ugarte admits. "It's important not to rush, and I learned how we should look at people in their eyes while giving Communion. You can see how they feel, and you can see the soul of a person by looking into their eyes."
Ugarte says it's important for him to connect with God and the person, as a Eucharistic Minister.
"I have the feeling that I am doing something wonderful," he says, tearing up.