We are all called by Christ to be witnesses of our Faith and to stand up against evil.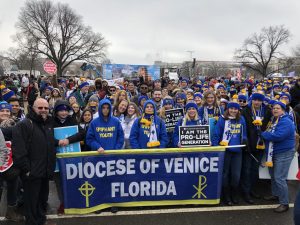 The Diocese of Venice Respect Life Office is co-sponsoring several events to mark the 47th tragic anniversary of the Roe v. Wade U.S. Supreme Court decision which opened the door for abortion in the United States.
Today, after more than 60 million abortions, there is less regard for all human life as society discards those deemed inconvenient because of age, infirmity or any other reason, the Florida Bishops noted in a statement released in early January. In fact, some states sought to strengthen laws that permit abortions even to the moment of birth.
Locally, there are several opportunities to act.
For example, St. Francis of Assisi Parish, 5265 Placida Road, Grove City, is hosting a Parish Prayer Walk for Life at 11 a.m., Jan. 18. The walk is in solidarity with the National March for Life in Washington, D.C., and for participants to be a witness to a Culture of Life and defend the right to life of all unborn children. Everyone is welcome. For more details, and for pledge sheets, please call 941-697-4899.
You can also join Bishop Frank J. Dewane for a Mass and the annual Prayer Walk for Life on Jan. 21 in Sarasota. The Mass is at 8:30 a.m., St. Martha Parish, 200 N. Orange St. Participants will then take a shuttle or walk to the Planned Parenthood on Central Avenue for a Prayer Vigil.
This year, Bishop Dewane is joining a group of approximately 475 from the Diocese of Venice on Jan. 24 to stand up for life. The young men and women, representing each Diocesan High School as well as 10 different parishes, will be joining hundreds of thousands in the National March for Life in Washington, D.C.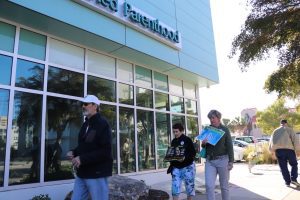 In addition, the U. S. Catholic Bishops invite everyone to join thousands of Catholics nationwide for 9 Days of Prayer for Life, a novena from Jan. 21-29 for the protection of human life. Each day's intention is accompanied by a short reflection and suggested actions to help build a Culture of Life. You can receive daily pro-life prayers via e-mail or on your phone via text. For further information, visit www.9daysforlife.com.
The 40 Days for Life spring campaign is held this year from Feb. 26 to April 5. The campaign includes 40 days of prayer and fasting for an end to abortion where all are welcome to stand and peacefully pray. These vigils will take place in the public right-of-way outside Planned Parenthood abortion facilities in Naples, Fort Myers and Sarasota. For more information, go to www.40daysforlife.com and click on the location nearest you.
The Diocese offers multiple pro-life efforts throughout the year. This includes regular prayer vigils are held in front of abortion facilities throughout the Diocese.
For information on all Diocesan activities promoting a Culture of Life, please contact Jeanne Berdeaux at Berdeaux@dioceseofvenice.org or 941-374-1068