The Catholic Community Foundation of Southwest Florida is beginning a new "First Friday Prayer Intentions with Bishop Frank J. Dewane" with an introduction from Bishop on Sept. 1, 2021, and the first Prayer Intention on Oct. 1.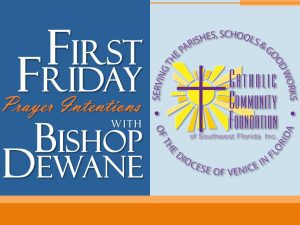 "This is an opportunity for the faithful throughout the Diocese of Venice to share prayer intentions and then join Bishop Dewane in prayer on the first Friday of each month," explained Michael Morse, Executive Director of the Catholic Community Foundation.
The faithful can submit prayer intentions to the Foundation Facebook page (www.facebook.com/ccfdov) in the comments section or through the direct message option. For those who do not have access to Facebook or who wish to submit private intentions can do so via email at ccf@dioceseofvenice.org or by mail: Catholic Community Foundation of Southwest Florida, 1000 Pinebrook Road, Venice, FL 34285.
A welcome video to the "First Friday Prayer Intentions with Bishop Dewane" has been posted on the Foundation Facebook page and intention requests can be posted in the comments section at any time. A new video from Bishop Dewane leading viewers in prayer will be posted each First Friday, (Oct. 1, Nov. 5, Dec. 3, and so on).
During the introductory message, the Bishop said, "As written in the Gospel of Matthew, we hear Jesus say, 'When two or three are gathered together in My name, I am there in the midst of them.'"
"May our joint prayer to Our Heavenly Father draw us closer to Christ and remind us of our unity in the one Baptism that we share," Bishop Dewane continued. "May it also ease our fears, raise our spirits, and renew our faith as we petition our Heavenly Father to help us during our times of both thanksgiving and human need."
As the Bishop notes, the prayer for intentions can be submitted or be the "ones you hold within your heart."
Morse explained that the Foundation started this prayer initiative solely with the goal of providing an opportunity for everyone to come together in prayer for others.
A link to the Foundation Facebook page can be found on the Foundation website at https://ccfdioceseofvenice.org/. If you have any questions, please call 941-441-1124.