The threat of Hurricane Idalia caused some disruptions within the Diocese of Venice, but overall there was little damage as the storm delivered only a glancing blow to the area on Aug. 29 and 30, 2023.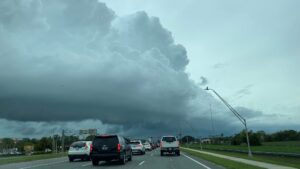 Idalia reached Category 4 status before landfall in the Big Bend area of Florida, just as the catastrophic Hurricanes Ian (2022) and Irma (2017) did. However, this time the Diocese of Venice was blessed as the storm track kept the most extreme parts of the storm – hurricane force winds and severe storm surge – stayed west of the Diocese, sparing the region from the worst of the impacts.
The only reported damage was to a roof at St. Charles Borromeo Parish in Port Charlotte, which is currently in the process of being replaced, as well as water seepage from a window into Epiphany Cathedral Catholic School, which is still going through recovery from Hurricane Ian.
As Hurricane Idalia approached, Bishop Frank J. Dewane met with members of the Diocesan Emergency Response Team on Monday, Aug. 28, and then again on Tuesday, Aug. 29. The first of these meetings was to review and then implement existing emergency plans for all Parishes, Schools and other entities within the Diocese.
These emergency plans were established to create policies to ensure an ease of preparation when tropical weather threatens. This includes checklists and basic guidance to ensure that the people and the buildings within the Diocese are secured and rendered as safe as possible before a storm arrives.
As Idalia roared into the Gulf of Mexico, the hurricane caused Parishes to suspend activities, including the celebration of the Holy Sacrifice of the Mass by the end of the day on Tuesday, Aug. 29, all before the worst of the storm arrived. In addition, all Diocesan Catholic Schools were closed Aug. 29 and 30, and all reopened by Aug. 31.
"Thanks be to God, the Diocese was blessed to be spared the wrath of Hurricane Idalia," Bishop Dewane said. "We are all too familiar with the catastrophic destruction these storms can cause as many in our own Diocese are still recovering from Hurricane Ian. Please pray for those who are recovering from Idalia and that our Diocese is spared from future storms."