As a result of Hurricane Ian's destructive path, lives have been tragically lost and many properties, homes, and businesses have been severely damaged or destroyed. The suffering and widespread damage in the storm's wake are staggering. No part of the Diocese has been untouched by the storm's destruction.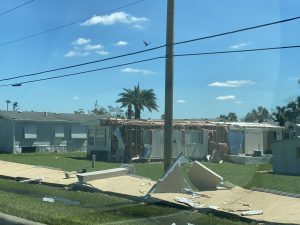 "Several Parishes have lost church buildings, and others have had facilities severely damaged by the storm," Bishop Frank J. Dewane said in a letter to the faithful. "Many people throughout the region have endured significant damage and loss, still others have come together to provide help in the face of significant suffering. Many Parishes in the worst impacted areas have been the center of immediate response. Catholic Charities, as well as other agencies, have been working tirelessly to provide humanitarian assistance."
To respond to these recent calamities, Parishes in the Diocese of Venice will take up a special collection the weekend of Oct. 22-23.
"This collection will help provide for the pastoral and reconstruction needs of the Church, as well as the efforts of Catholic Charities in providing both immediate and long-term assistance to those impacted," Bishop Dewane wrote. "Thank you for your kindness and profound generosity towards all impacted by the hurricane. Your compassion towards those in need fulfills the Lord's command to 'love your neighbor as yourself.'"
Hurricane Ian recovery
As the recovery from Hurricane Ian continues, Bishop Frank J. Dewane and the Diocese of Venice continue to facilitate helping those in need. Because of the scope of the devastation, with coastal communities destroyed, widespread wind damage and inland flooding, there is great need.
If you need help
Please visit www.catholiccharitiesdov.org. There you will find an updated list of disaster distribution points for supplies. This list is updated at the end of each day and will change often as the focus of the recovery shifts and the different needs are understood.
How to help
If you would like to support the Diocesan response to Hurricane Ian, please visit www.dioceseofvenice.org/hurricaneian, or send a check to Diocese of Venice in Florida, ATTN: Hurricane Ian Relief, 1000 Pinebrook Road, Venice, FL 34285.
Volunteering
If you are interested in volunteering, please visit www.catholiccharitiesdov.org to find a list of disaster distribution points where volunteers are needed for loading vehicles, sorting supplies and additional assistance.
Additional help
The Diocese will hold a special second collection for Hurricane Ian relief on the weekend of Oct. 22-23 in all Parishes. Also, please contact your local Parish to learn about collection drives for hurricane supplies.
The Diocese of Venice extends its thanks to everyone for their continued prayers and outpouring of support as the recovery from Hurricane Ian continues.