At 10 a.m. on Monday, Aug. 15, 2022, a line of vehicles wound its way through the parking lot of St. Elizabeth Seton Parish in Naples.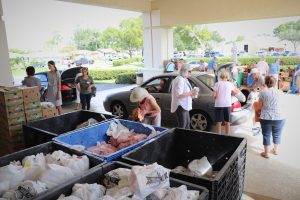 It was the Solemnity of the Assumption of the Blessed Virgin Mary, but the occupants of the vehicles were not going to Mass, they were waiting for food as part of a local distribution effort to help the needy in the area.
The line of 390 vehicles, representing some 700 families, rivaled the peak demand during the early months of the global pandemic when many were out of work. The people in line all had jobs, some several, but they still needed the food to help their family and children survive. The distribution is part of a community effort with St. Matthew's House in partnership with the Harry Chapin Food Bank.
The reasons were simple, the cost of everything is going up. Inflation has hit families who are financially on the edge very hard. With rent, insurance and gas prices still high, it is the food price increases that seem to hurt the most.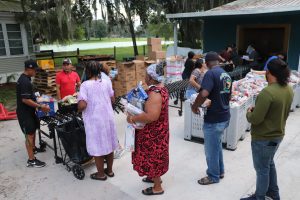 "I have three children and my grocery bill is nearly $200," said Shannon Byrd of Naples. "I work. My husband works and it isn't enough. Buying the basic food for my family is just too much."
"God bless you!" Byrd said from her car as volunteers loaded her trunk with bags of food on a hot summer morning.
In late July 2022, the U.S. Bureau of Labor Statistics reported the all-items Consumer Price Index (CPI), a measure of economy-wide inflation, increased by 1.4% from May 2022 to June 2022, or up 9.1% from June 2021.
The U.S. Department of Agriculture (USDA) reported that the food prices were going up even faster at 10.4%. Specifically, the USDA stated that overall grocery store prices are up 12.2% from 2021, with those prices expected to go up another 10-12% by this time in 2023. The biggest impact on prices is in poultry and eggs which are up 15% in the last year and expected to increase another 29% in the next year. The USDA reported grocery store/food inflationary price increases of only 3.5% in both 2020 and 2021, numbers that have been consistent for the past 10 years.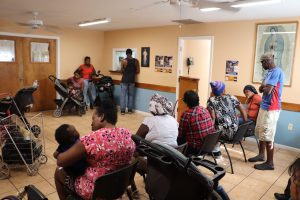 The reason for the increases varies: Russia's invasion of the Ukraine; the market still recovering from the global pandemic; a recent avian flu wiping out chicken and egg production; gasoline prices; and the increasing costs at every level for farmers, production and grocers for labor and processing. The impact is real.
For people on a budget, these price increases can be very difficult and lead to them cutting back on healthier foods and products, which tend to be more expensive, leaving them buying lower quality and lower nutrition foods. Combined with the cost of everything, this means families have to make difficult choices between paying rent, utilities or buying less food.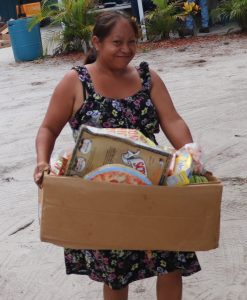 Maria Verde of Immokalee waited patiently at Guadalupe Social Services of Catholic Charities Diocese of Venice, Inc., in Immokalee on Aug. 15, so that she could get a bag of food for her family. She has two toddlers and one child in elementary school.
"I don't know what we would do without Catholic Charities," Verde said.
Peggy Rodriguez, who is the Collier County District Director for Catholic Charities, said the demand at the food pantry is very high for the summer months. The Casa Maria Soup Kitchen is serving 300 meals a week and the demand continues to increase.
"We do our best to help people with the donations we can get and from purchases from the local food bank, but the demand is starting to outpace the availability," Rodriguez said.
At St. Michael Parish in Wauchula, where there is a weekly food distribution on Saturday mornings, the demand is also starting to outpace the food on hand.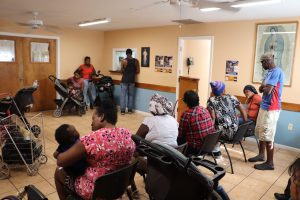 Erika Wood, who helps coordinate the volunteers, said that the numbers are as high as they have ever been with more than 300 families seeking help on Aug. 13. "It's really hard because many are people that we have not seen before."
Food pantries, whether run by Catholic Charities or at a Parish, rely on donations and the purchase of food from area food banks which are at a substantially discounted rate. But, in some cases, this support is not keeping pace either. This, in turn, means the amount of food being distributed must be stretched so there is always something available when the next family comes seeking help.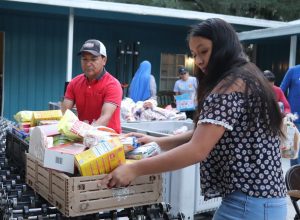 Many Diocesan Parishes support a variety of food pantries and food banks within the region. Please check with your local Parish on how you can help this effort.
How to help
If you would like to support Catholic Charities, please visit www.catholiccharitiesdov.org.
If you need food
For various food distribution sites throughout the Diocese of Venice, the days, times, and locations are listed below:
Guadalupe Social Services, of Catholic Charities – 211 S. 9th St., Immokalee, Monday – Friday: 9 a.m.-12 p.m. Food Pantry and Soup Kitchen open daily. The Soup Kitchen Dining Room is open for dine-in and also provides meals-to-go.
Judy Sullivan Family Resource Center, of Catholic Charities – 3174 Tamiami Trail E., Naples, Tuesdays and Thursdays: 9:30 a.m.-11:30 a.m.
St. Margaret Parish, Catholic Charities – 208 Dean Duff St., Clewiston, Fridays: 9:00 a.m.- 12:00 p.m.
St. Leo the Great Parish Campus, Catholic Charities – 28360 Beaumont Road, Bonita Springs, Fridays: 9:00 a.m.-11:00 a.m.
Elizabeth K. Galeana Food Pantry, Catholic Charities – 4235 Michigan Ave. Link, Fort Myers, Thursdays: 9:00 a.m.-12:00 p.m.
St. Paul Parish – Parish Hall, 1208 E. Oak Street, Arcadia, Fridays 8:30 a.m. – 10:30 a.m.
St. Francis of Assisi Food Pantry – 5265 Placida Road, Grove City, Mondays, Wednesdays, Fridays: 9:15 a.m. -11:15 a.m. Contact Matt Egan at megan@sfoachurch.com or 941-697-4899.
St. Jude Food Pantry – 3930 17th St., Sarasota, Wednesdays: 5:00 p.m. – 6:30 p.m., Saturdays: 8:30 a.m. – 9:30 a.m. Please bring ID and do not exit your vehicle. Volunteers will load cars. Call 941-955-3934 if you have any questions or visit: https://www.stjudesarasota.com/info/st-jude-food-pantry-schedule.
Wauchula Food Pantry – 408 Heard Bridge Road, Wauchula, Saturdays: 7 a.m.- 8:45 a.m. Call the Parish at 863-773-4089 if you require a different time or would like to support the efforts to assist the community.
St. Joseph Food Pantry – 3100 26th St W., Bradenton, Monday through Friday: 9 a.m. – 12 p.m. Call 941-756-3732 with any questions. To donate money or food, please visit https://www.stjoepantry.com/.
St. Elizabeth Seton Parish – 5225 Golden Gate Parkway, Naples, 10 a.m. to 12 p.m., Mondays. Call the Parish for details at 239-455-3900.