Internationally acclaimed author, speaker, and television host, Chris Stefanick made multiple stops during a visit to the Diocese of Venice inspiring and challenging his audiences to reexamine their faith.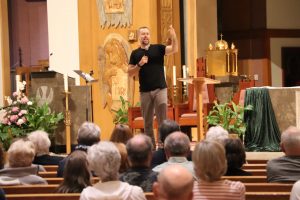 Primarily in the Diocese at the request of Epiphany Cathedral in Venice for two talks, Feb. 27 and Feb. 28, 2022, Stefanik, who is also the founder and president of Real Life Catholic, brought energy and passion about living a life of joy. He also spoke on Feb. 28 to an assembly of students in the gymnasium at Cardinal Mooney Catholic High School in Sarasota.
The youth-based talk is called "I AM," an inspiring message for teens and families based upon a book Stefanik wrote which focuses on inviting everyone on a journey to discover their real identity in Christ.
The second talk at the Cathedral was called "Living Joy – 9 rules that will change your life." Speaking in broad terms, Stefanik challenged his audience to rethink the way they view the world. He noted that everyone tends to dwell on negative aspects of their life – bills, traffic, disappointments, annoyances, temporary happiness when worry takes over, triggers that cause fear and anger, and much more.
"That is not what the Lord wants," he said. "Every success in life is meaningless without joy. Joy is God's dream for you. Heaven is called a 'wedding banquet.' And Jesus' whole mission was to share that joy with you. He said it Himself. 'I've told you these things so my joy may be in you.' Think about that. The joy of GOD in YOU!"

Stefanik encouraged all to give thanks for everything God has provided. "Give thanks in all things. Simple. The beauty of the flower. The colors of a sunset. The fact that you have what you have – a family, a job, food, clothes, shelter. These are not burdens, these are gifts."
He cited the example of poor children who are grateful for food. "They are always smiling, because they know what it is to be grateful for the little things. These little things are great and given to them by God, just as they are given to you and me."
Stefanik said it is up to the individual to make the changes in one's life to grow spiritually, stressing that it is not up to the Pope, the Bishops or the priests to do everything.
"It is about doing Catholic stuff your entire life. Go to Mass. Go to confession. Smells, bells, incense, rosaries, icons; all of it. Why? Because all of it does for us as St. Paul wrote – 'Think of What is above and not of what is on earth (Colossians 3:2).' Something is bigger than our circumstances."
After the second talk, Stefanik was surrounded by many people who thanked him for his presence and for offering a fresh perspective on such a simple theme: "In all things, give thanks."