Seven Diocese of Venice Catholic high school seniors have been named Finalists in the National Merit Scholarship Program!
This is a great achievement for the students and for Catholic Education in the Diocese of Venice. All seven of the semifinalists were named finalists and at least one finalist comes from each of the four Diocese of Venice Catholic high schools. This honor places the seven finalists among the top one percent of U.S. high school seniors.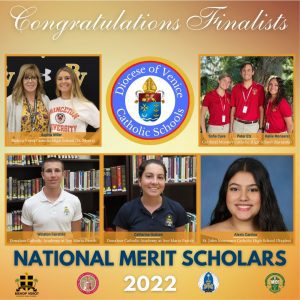 The finalists include – Alexis Camina (St. John Neumann Catholic High School, Naples), Sophia Miller (Bishop Verot Catholic High School, Fort Myers), Catherine Graham and Winston Fairchild (Donahue Catholic Academy of Ave Maria Parish, Ave Maria), and Hallie Monserez, Peter Etz and Sofia Cava (Cardinal Mooney Catholic High School, Sarasota).
Father John Belmonte, SJ, Diocesan Superintendent of Catholic Education, said it comes as no surprise.
"Having finalists represented from each of our Diocesan high schools this year is an indication of the commitment to excellence that defines our schools and inspires our mission," Father Belmonte said. "From pre-kindergarten through high school, our teachers, school leaders, and Pastors educate children in the truest and fullest sense by providing them with the tools to learn and direction to live in service of God and others."
Finalists have an opportunity to continue in the competition for some 7,500 National Merit Scholarships worth more than $30 million. The process to become a Finalist included submitting a detailed application with information about academic record, participation in school and community activities, demonstrated leadership abilities, employment, as well as honors and awards received.
To learn more about Diocese of Venice Catholic Schools, please visit https://dioceseofvenice.org/offices/offices-departments/catholicschools/.