The middle of seven children, 30-year-old Transitional Deacon Alexander Pince had two people, his mother and an uncle who is a Diocesan priest, who were strong witnesses of Faith, ultimately inspiring him to choose a vocation to the priesthood.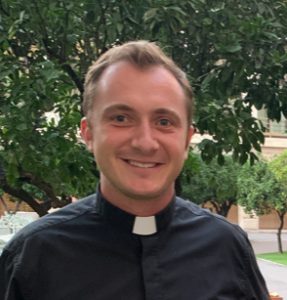 "I was blessed to have been given the Faith from my parents (David and Margaret Pince), and from when I was a child, my mom took us to daily Mass," Deacon Pince explained of his life growing up in Concord, New Hampshire, with a very large extended family with dozens of first cousins. "That habit continued through my high school years. I started altar serving after my first Communion at the age of six, and I looked up to our Parish priest, who earnestly cautioned me: 'altar serving isn't kid stuff.'"
His uncle, a Diocesan priest for the Diocese of Burlington, Vermont, visited the Pince family on his days off bringing the human side of a relatable priest. As a child he would play the role of the priest with his siblings as the congregation. He jokingly remembers his mother's insistence that he use a pretzel as a pretend host, and to call it a "pretzel" to avoid any unintentional blasphemy.
Homeschooled with a Catholic curriculum through high school, then college years attending Ave Maria University earning degrees in business and economics, Deacon Pince pushed the idea of becoming a priest to the back of his mind.
During the years after college, while working in finance and then at Ave Maria University, he described as "the Lord's gentle yet consistent invitation to follow Him as a priest… because the Lord was quite persistent. The breaking moment came in May of 2015 when I went on a pilgrimage to Lourdes, France. During those days, His call was so clear that I gratefully relented and decided to enter seminary."
Deacon Pince explained that his spiritual journey may sound like a life sentence in prison to someone who doesn't understand. "But, on the contrary, this decision was a moment of profound relief and grace because it began the fulfillment of the deepest longing of my heart."
Without ever looking back, Deacon Pince opted to pursue his vocation to the priesthood with the Diocese of Venice, noting the choice of where to enter was easy. "I loved my time as a student at Ave Maria and loved the area. But even more than that, I was living in the Diocese when the vocational call became very tangible. I actually believe that I was called to serve as a priest for this Diocese."
Transitional Deacons Pince and Mark Harris have both answered that call to a vocation to the priesthood and will be ordained by Bishop Frank J. Dewane at 11 a.m., Saturday, July 31, 2021 at Epiphany Cathedral in Venice.
During the summer of 2015 Deacon Pince started as a Diocesan seminarian with a Spanish immersion course in Guatemala followed by studies at St. John Vianney College Seminary in Miami where he earned a philosophy degree. He then went on to study in Rome, Italy, and earned a Sacred Theology Bachelor's Degree (STB) from the Gregorian University. He will soon be entering the second year of a two-year Licentiate program in Rome at the University of the Holy Cross in Moral Theology.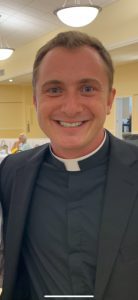 While a seminarian for the Diocese, he served summer pastoral assignments at Ss. Peter and Paul the Apostle Parish in Bradenton, Resurrection Parish in Fort Myers, St. William Parish in Naples, St. Thomas More Parish in Sarasota and St. Andrew Parish in Cape Coral. He also spent a summer at a pilgrimage center in Jerusalem, Israel.
As the July 31 ordination approaches, Deacon Pince said he cannot wait to celebrate Mass, and noted that he is very humbled at the prospect of becoming an instrument of God's Mercy in the Sacrament of Reconciliation.
Asked about what type of priest he hopes to be, he answered, "When it comes down to it, I simply want to be a priest that is faithful to Christ and the Church, and to do what Jesus asks of me. I'd like for people to see Christ in me, and to live out my priesthood generously and joyfully."
Please pray for Deacons Pince and Harris as they approach their priestly ordination.
All are invited to attend the Ordination. Afterwards, there will be a reception will in the Epiphany Cathedral Parish Hall. If you are unable to attend, the Mass will be livestreamed at 11 a.m. July 31 through the Epiphany Cathedral Facebook page at www.facebook.com/EpiphanyCathedral (you do not need to register to view the ordination).
To read the previously published profile of Deacon Mark Harris, please visit www.dioceseofvenice.org/news.