Bishop celebrates anniversary of Episcopal Ordination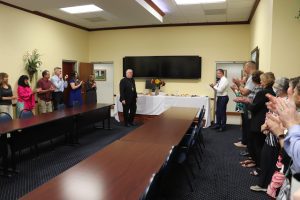 A small celebration in honor of Bishop Frank J. Dewane took place at the Catholic Center in Venice on July 26, 2021 to mark the 15th Anniversary of his Ordination to the Episcopate. On the actual anniversary day, July 25, Bishop Dewane celebrated Mass at Epiphany Cathedral in Venice, the site of his Ordination to the Episcopate.
Summertime and the Giving is Easy Appeal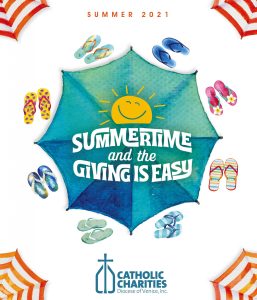 Every day, Catholic Charities Diocese of Venice serves the most vulnerable population by feeding, housing, empowering, and striving to help those in need. This summer, you can leave your footprint by helping your neighbors. The Catholic Charities Summertime and the Giving is Easy Appeal is asking for your support. Donate to your choice of assistance, such as food, shelter, education or other support. The giving is easy! Your gift will make a positive impact on our less fortunate brothers and sisters! Please visit www.catholiccharitiesdov.org or mail a check to Catholic Charities,1000 Pinebrook Road, Venice, FL 34285.
Marriage prep for couples over 55
The Office of Family Life is offering a one-day marriage prep seminar for those couples over 55 years of age preparing for marriage or convalidation from 9 a.m. to 4 p.m., Aug. 28, 2021, at Our Lady of Lourdes. 1301 Center Road, Venice. A specially prepared volunteer team share their experiences and information with the intention of enabling couples to be more aware of the privileges and responsibilities of marriage. Pre-registration is required. Please register online at: https://dioceseofvenice.regfox.com/two-become-one.
Scholarships for Catholic Schools
Step Up for Students is a state-approved non-profit scholarship funding organization that helps administer four scholarships for Florida schoolchildren: the Florida Tax Credit Scholarship Program (FTC) for lower to middle income families, the Family Empowerment Scholarship (FES) for lower to middle income families and students with unique abilities (formerly Gardiner), as well as the Hope Scholarship. These scholarships could provide up to $7000 for a Catholic School education with 2021 adjusted income guidelines. Step up for Students will continue accepting applications throughout the school year. For the Diocese of Venice Catholic School application webpage visit https://www.stepupforstudents.org/swflcatholic/.
Catholic Alpha Online
Alpha Online is an online course where others meet virtually once a week via Zoom to discuss and share ideas about faith and God in an open, caring and non-judgmental way. The Diocese of Venice English Catholic Charismatic Renewal invites you to experience Catholic Alpha online from the comfort of your home, and to hear from notable Catholic speakers. These include newly appointed Cardinal Raniero Cantalamessa O.F.M. Cap., longtime Preacher of the Papal Household; Dr. Mary Healy; Father John Ricardo; and Father Mike Schmitz. Each course is Monday from 7 p.m. until 8:30 p.m. beginning Sept. 13 through Nov. 29, 2021.  For further information please contact Theresa Salvo at asolotogod@gmail.com or 804-387-8282.
2021 Marriage Preparation Retreats
The Diocesan Office of Family Life is offering "Day of Reflection" retreats for couples preparing for the Sacrament of Marriage. A specially prepared volunteer team of married couples and a priest will share their experiences and information with the intention of enabling couples to be more aware of the privileges and responsibilities of marriage. The retreats in English are from 9:30 a.m. to 5 p.m., on the following Saturdays: Aug. 7, and Nov. 13. Please visit https://dioceseofvenice.regfox.com/marriage-preparation-retreat-2021 to register for the English retreats. Retreats in Spanish take place: 9:30 a.m. to 5 p.m., Aug. 7 and Oct. 30 at St. Jude Parish, 3930 17th Street, Sarasota, and 8:30 a.m. to 4 p.m., Aug. 14 and Dec. 4, at Our Lady Queen of Heaven Parish, 355 S. Bridge Street, LaBelle. To register for a St. Jude retreat date please contact the parish at 941-955-3934. Please visit https://dioceseofvenice.regfox.com/retiro-de-formacion-matrimonial. to register for a retreat at Our Lady Queen of Heaven, For further information contact Carrie Harkey at 941-484-9543 ext. 3019.
New Catholic Institute course beginning in August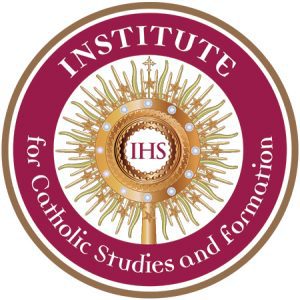 The Institute for Catholic Studies and Formation is offering a 16-week graduate level online course starting Aug. 24, 2021 that introduces students to the principles, practices, and sources of Catholic Theology. The course "What is Catholic Theology? (Ecclesial Nature and Mission of Theology)" counts as a pre-requisite for those beginning the online MA in Theology and Christian Ministry at Franciscan University of Steubenville. (Franciscan offers Diocese of Venice students discounted tuition for this online MA). This course is also available to those who wish to attend for their own personal enrichment. For cost and other information and to register for the course, visit the Institute website at https://institute-dov.org/ or call 941-766-7334.
Year of Saint Joseph
On the Solemnity of Saint Joseph, March 19, 2020 Bishop Frank J. Dewane, in the context of the Coronavirus, consecrated the Diocese of Venice to the care and protection of Saint Joseph, and announced a "Year of Saint Joseph". Pope Francis recently dedicated a "Year of St. Joseph" therefore, the Diocesan celebration will continue through December 8, 2021. Saint Joseph, often referred to as the Protector, can be our protector during these troubling times. A 9-day Novena to Saint Joseph is included. This Novena can be prayed any time throughout the year. The novena and other resources can be found at https://dioceseofvenice.org/a-year-of-st-joseph.
Diocesan Marriage Conference Oct. 2
The Diocese of Venice in Florida and the St. John Paul II Foundation announce the "Together in Holiness Marriage Conference" that will be held from 10 a.m. to 5 p.m., Oct. 2, 2021, at St. Agnes Parish, 7775 Vanderbilt Beach Road, Naples and St. Thomas More Parish, 2506 Gulf Gate Drive, Sarasota. The speakers are Kevin and Lisa Cotter. For more details contact Carrie Harkey at harkey@dioceseofvenice.org.
"Witnessing Faith with Bishop Dewane" available June 30
Join Bishop Frank J. Dewane, for his monthly radio program on Relevant Radio. "Witnessing Faith with Bishop Dewane" can be heard at 8:30 a.m., June 30, 2021, discussing the topic of vocations and the Ordination to the Priesthood of two men. Access to the program is available at https://dioceseofvenice.org/our-bishop/relevant-radio-podcasts.
Tele-Mental Health Counseling Services
Catholic Charities, Diocese of Venice Inc. is offering Mental Health Counseling for adults and children provided by licensed mental health therapists. If you or someone you know is feeling stressed, anxious, overwhelmed, depressed, or helpless, Catholic Charities can help. For more information, please call 239-455-2655. There is no charge for this service.
Hurricane Prayer
As the 2021 Atlantic Hurricane Season (June 1-Nov. 30) continues, a prayer is presented here by which one asks God for protection and safety from the storms that often threaten Southwest Florida. With the formation of Tropical Storm Ana in mid-May, it promises to be another busy season of watching the tropics. We must all remember the devastating effect of Hurricane Irma from 2017 and what was witnessed when Hurricane Michael struck the Florida Panhandle in 2018. Everyone in the Diocese of Venice knows and understands the power of these storms and the suffering which follows in their wake.
Prayer for Safety in Hurricane Season
O God, Master of this passing world,
hear the humble voices of your children.
The Sea of Galilee obeyed Your order
and returned to its former quietude.
You are still the Master of land and sea.
We live in the shadow of a danger over which we have no control:
the Gulf, like a provoked and angry giant,
can awake from its seeming lethargy, overstep its conventional boundaries, invade our land, and spread chaos and disaster.
During this hurricane season we turn to You, O loving Father.
Spare us from past tragedies whose memories are still so vivid
and whose wounds seem to refuse to heal with passing of time.
O Virgin, Star of the Sea, Our beloved Mother, we ask you
to plead with your Son on our behalf,
so that spared from the calamities common to this area
and animated with a true spirit of gratitude,
we will walk in the footsteps of your Divine Son
to reach the heavenly Jerusalem,
where a stormless eternity awaits us. Amen.
Oración para la temporada de huracanes
O Dios, Señor de este mundo pasajero,
escucha la humilde voz de tus hijos.
El Mar de Galilea obedeció Tu orden
y volvió a su anterior quietud.
Tu todavía eres el Señor de tierra y mar.
Vivimos en la sombra del peligro sobre el cual no tenemos control;
el Golfo, como un violento gigante, puede despertar de su aparente letargo,
sobrepasar sus límites, invadir nuestra tierra y sembrar caos y desastre.
Durante esta temporada de huracanes acudimos a Ti, O Padre Misericordioso.
Líbranos de tragedias como las pasadas que están tan vivas en nuestra
memoria y cuyas heridas rehúsan ser curadas con el paso del tiempo.
O Virgen, Estrella del Mar, nuestra amada Madre, te pedimos
que intercedas ante tu Hijo por nosotros,
para que nos libre de las calamidades comunes a esta área,
y animados con un verdadero espíritu de gratitude
caminemos en los pasos de tu Divino Hijo
para llegar a la Jerusalén Celestial,
donde una eternidad sin tormentas nos espera. Amen.