For one week each summer many parishes throughout the Diocese of Venice make an amazing transformation to accommodate Vacation Bible School for the youngest of the faithful.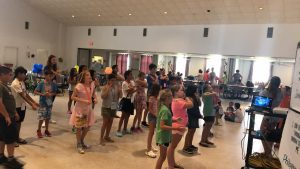 While this option was not available in the summer of 2020 due to the global Pandemic, the summer of 2021 brought the children back in droves.
A Vacation Bible School is intended to teach children to love God and thank the Lord for all the wonderful gifts in the world. Throughout a typical day of Vacation Bible School, the children learn about Bible stories, and then sing and dance in praise of God.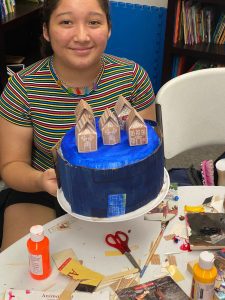 Team leaders – often middle school and high school student volunteers – lead the children through a variety of activities which included arts and crafts, games, reenacting Bible adventures and just having fun. Each day in the week has a different theme and different activities to keep the children engaged and learning.
One of the highlights for the volunteers is during the quieter moments when they hear the children explain their "God Experiences." These are explained encounters with God's creation or with good people, such a seeing butterflies or rainbows or having a good friend help with a project. The week concludes with a joyous celebration.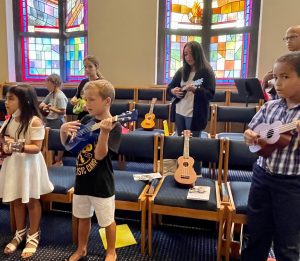 Some VBS programs are coordinated with neighboring Parishes to pool resources as was the case the week of July 19-23 with St. Cecilia and St. Francis Xavier Parishes in Fort Myers. A bonus for the St. Cecilia group was the opportunity to commemorate "World Day for Grandparents and the Elderly" on July 25, by singing at the conclusion of Mass.
Meanwhile, multiple Diocesan Catholic schools hosted STREAM (Science, Technology, Religion, Engineering, Arts and Math) camps. Some of these camps covered several weeks and introduced the eager students to new projects such as arts and crafts, engineering various objects and other activities that incorporated the different aspects of STREAM.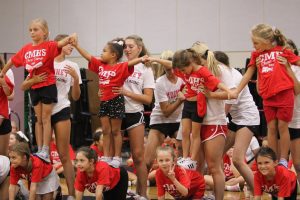 St. Peter the Apostle Parish in Naples held its annual Summer Music Camps in mid-July with the budding musicians (ages 4-12) showing off their newly learned skills during Mass.
For the athlete in many, the area Catholic high schools hosted a variety of sports camps for children such as soccer, football, basketball, cheerleading and many others. These camps offer a chance for younger children to learn the skills needed to excel in different sports while at the same time having a bit of fun.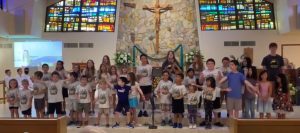 Catholic Charities in Bonita Springs holds a summer-long camp for children which includes a variety of fun games and projects giving the children the opportunity to show off their athletic, artistic and other skills. The campers also take a variety of fun field trips.
These are just some of the examples of the exciting activities that took place for the thousands of young people in the Diocese during the "slow" season.