An installation of a new Pastor is an expression of unity in the life of a Parish.
Bishop Frank J. Dewane installed Father Michal Szyszka as Pastor of St. Raphael Parish in Lehigh Acres on March 12, 2023, in the context of the Mass.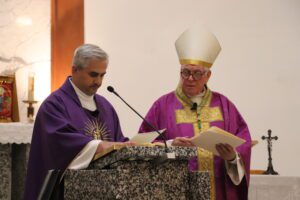 "You have all come to know him as an Administrator," Bishop Dewane said. "While not everyone will agree with each decision Father makes, please listen, give feedback and support him once Father makes the decision that has to be made… You have all been called to join in this expression of unity here at St. Raphael. Move forward with that as your guide."
St. Raphael Parish was established in 1962 in the Archdiocese of Miami. The church was dedicated in 1964. There is also a 24/7 Eucharistic Adoration Chapel. The property includes an Our Lady of Lourdes Grotto and several prayer gardens. The Parish sits in a rapidly growing part of Lee County, east of Interstate 75. Masses are celebrated in English and Spanish, and both groups were represented at the installation, with a Mariachi band performing several songs during the Mass and during the later reception.
As part of the installation process, Bishop Dewane first calls the priest to the ambo following the homily. The priest then recites, along with the faithful, the profession of faith, including an additional part solely for him. The priest then recites an Oath of Fidelity in which he promises to "adhere to the teachings, which either the Roman Pontiff or the college of bishops enunciate when they exercise authentic magisterium." The installation also includes prayers to provide the new Pastor the wisdom and guidance from the Holy Spirit to lead the Parish.
The Bishop then presents the new Pastor to the faithful gathered. Documents were later signed by the Bishop, the new Pastor, and two official witnesses of the Parish Community, who serve as witnesses for all of the parishioners. Copies of these documents are put in the Diocesan files for the Parish and Father, while a copy is kept in the Parish records.
After Mass, a reception for Father Szyszka was held in the Parish Hall where Father thanked the faithful of St. Raphael for being so supportive since his appointment as Administrator in 2020, during the height of the global pandemic.