Father Anthony Hewitt was installed as Pastor of Our Lady of Mercy Parish in Boca Grande by Bishop Frank J. Dewane on Oct. 1, 2023.
Bishop Dewane explained that the installation of a new Pastor is like a punctuation mark for the life of the Parish; a new era under the stewardship of Father Hewitt.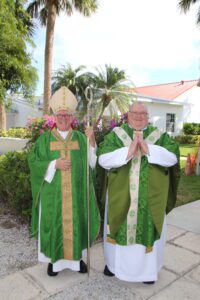 "We do this installation because a Pastor is called upon to lead people closer to God through the areas of evangelization, worship of God and the caring for the poor," Bishop Dewane said. "These are areas for which Our Lady of Mercy has a strong reputation and under Father Anthony's leadership, I know you will continue to do these well."
The Bishop reminded the faithful of Our Lady of Mercy of the need to support the new Pastor, and all of the priests, as they cannot do their daily ministry without such backing.
As part of the installation process, the priest first recites a profession of faith for all to hear, including an additional part solely for him. The new Pastor then recites an Oath of Fidelity and promises to "adhere to the teachings, which either the Roman Pontiff or the college of bishops enunciate when they exercise authentic magisterium." The installation also includes prayers to provide the new Pastor the wisdom and guidance from the Holy Spirit to lead the Parish.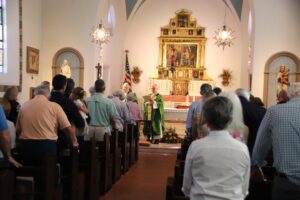 The ceremony concluded with the signing of documents by the Bishop, the new Pastor, and two official witnesses of the Parish community, who serve as witnesses for all of the parishioners. Those documents are split between the Parish and Diocese as well as the Pastor's personnel records.
Our Lady of Mercy was founded in 1950 as a Mission of St. Francis of Assisi Parish in Grove City and elevated to a Parish in 1988. The Parish was established to serve the pastoral needs of both permanent and seasonal residents of the island community.
Father Hewitt, who previously served at the Parish as a Parochial Vicar, was appointed Pastor of the Parish in July following the retirement of the founding Pastor, Father Jerome Carosella.
In addition to the parishioners of Our Lady of Mercy, Father Hewitt was blessed to have his parents and other family members present. A celebratory reception was held in the Parish Hall.