Father Rafal Ligenza was installed as Pastor of St. Joseph Parish in Bradenton by Bishop Frank J. Dewane on Feb. 27, 2022.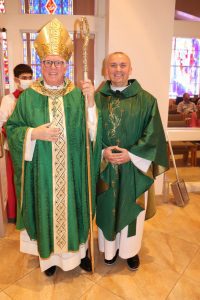 For Bishop Dewane, the installation of a Pastor reinforces the leadership role of the priest as a guide in the spiritual life of the Parish, as each person lives the call of Christ in his/her own way. Father Ligenza has been serving as Administrator at St. Joseph Parish since 2019.
A key to the success of a Pastor is the support by the faithful in differing ways, the Bishop explained. This can be accomplished through words of encouragement, advice on business matters, or just a kind word. This support must always be present for the Pastor to succeed. "I call upon each of you to help Father Rafal as he goes forward on this journey with you here at St. Joseph Parish."
During the installation, the priest begins with selected words leading to the start of the Creed at which point he is joined by the faithful. At the end of the Creed, the new Pastor has extra lines which are exclusive for him. In addition, the Pastor takes an Oath of Fidelity to the Bishop and his successors, formalized by placing his hand upon the Book of Gospels.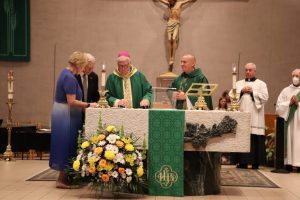 The installation ceremony concluded with the signing of documents by the Bishop, the new Pastor, and two official witnesses of the Parish community who serve as witnesses for all of the parishioners.
Father Ligenza thanked Bishop Dewane for having the confidence in him as Pastor, the spiritual leader of St. Joseph Parish and St. Joseph Catholic School. "This is a beautiful Parish, I am so blessed to be here."
Following the Installation Mass, a reception luncheon was held in the Parish Hall.