Lady Cougars fall short in State Final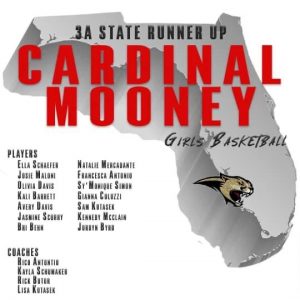 The Cardinal Mooney Catholic High School Lady Cougars basketball team fell short of their goal of winning a State Championship during a return trip to the Class 3A Finals on Feb. 25, 2022, at RP Funding Center in Lakeland.
The Lady Cougars dropped their game to Westminster Academy of Fort Lauderdale 44-41, falling short in a comeback attempt on a night when scoring was at a premium. The Sarasota women finished the season 19-7.
This season tied for the Lady Cougars deepest run in the state play, having reached finals in 2021. The previous best effort by the ladies was in 1997 when they lost in the state semifinal game.
A rough night scoring, making only two of 18 three-point attempts, and falling behind early was the challenge. The team was down by 7 points entering the fourth quarter and made a valiant comeback before faltering late.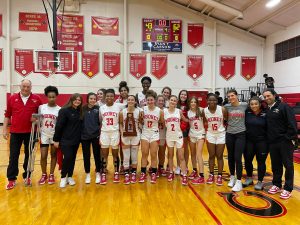 While the loss is disappointing, the team has nearly its entire roster returning for another run next season. The team is led by two juniors, Jordyn Byrd (12 points and 13 rebounds), and Olivia Davis (7 points and 5 rebounds), and two freshman Kali Barrett (8 points, 9 rebounds) and Sy'monique Simon (8 points).
To reach the finals, the Lady Cougars defeated King's Academy of West Palm Beach 50-42 on Feb. 23. They earned their berth in the Final Four with a Regional Title on Feb. 18.
The Lady Cougars were not the only Diocesan basketball team in the state tournament. The St. John Neumann Catholic High School Lady Celtics from Naples made its first trip to the State Final Four since 2008. They earned their own Regional Title on Feb. 18 but fell on Feb. 23 in the Class 2A semifinal to Miami Christian, the defending and eventual State Champs. The Lady Celtics ended their season with a 23-6 record.